Note from the host: Ready to create your own quarter life comeback? Get exclusive subscribers-only content and other cool stuff for rocking your journey by [cp_modal id="cp_id_43e62″]clicking here. [/cp_modal]
Today I'm excited to welcome Adam Ward to The Quarter Life Comeback podcast.
Adam Ward is an artist and professional LEGO builder. Yes, you read that correctly.
At 33 years old, Adam has been building LEGO for over 30 years, joking that the only things he's loved longer are boobs and macaroni.
But this is not just a fun hobby. Adam has created major installations for Zappos, The Oscars, Tumblr, Warner Bros. and more. His work has been featured in several magazines, as well as Oprah.com and Martha Stewart Weddings.com.
He's currently working on large-scale collaborations with Nestlé, Microsoft, and as the resident artist at "Bricksburg" where the next several LEGO movies are being made.
Adam believes that play and creativity are two of the most important things in life, and strives to play and create every day. In this episode, he invites us to do the same as well.
"Don't just have ideas; act on them" (Tweet this)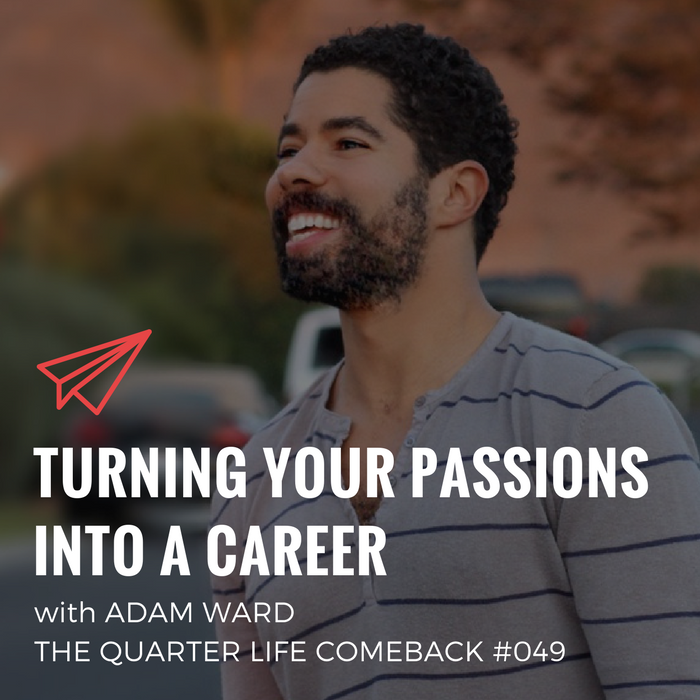 IN THIS EPISODE, YOU WILL LEARN:
Why the traditional career path isn't working
Dealing with pressure from loved ones when pursuing a different path
The difference between a dream and a goal
Why play and creativity are so important
How to turn your hobbies into an income
What to do when you don't know what you're passionate about
RESOURCES & LINKS MENTIONED IN THIS EPISODE:
Finally, you can hang out with Adam on the various social media channels below:
Website | Twitter | Facebook | Instagram
THANKS FOR LISTENING!
If you enjoyed this episode, shoot me a tweet @BryanTeare and let me know your biggest takeaways. Feel free to share it around with your friends so they can benefit from the podcast as well.
Also, I'd be really grateful if you could leave an honest rating & review for The Quarter Life Comeback on iTunes. They're extremely helpful in terms of the rankings and visibility of the show, and I read each and every one of them personally 🙂
Finally, don't forget to subscribe on iTunes, Stitcher, SoundCloud or TuneIn to receive new episodes as soon as they go live!
Thanks again for joining me on the show, Adam, and for sharing your story.
P.S. Want to support The Quarter Life Comeback? Now you can by becoming a patron! Click here to learn more.
Intro by Daniella Pellegrini | Music Credit: CharlestheFirst – Letting Go
READY TO CREATE YOUR COMEBACK?
Sign up below to get even more episodes like this as soon as they go live! You'll also receive exclusive subscribers-only content, news, and updates on products and services via email. Unsubscribe at any time.