Today I'm excited to welcome Jenny Blake to The Quarter Life Comeback podcast.
Jenny Blake is one of my all-time favorite people online. She is an author, career and business strategist and international speaker who helps people organize their brain, move beyond burnout, and build sustainable, dynamic careers they love.
Jenny is also the author of PIVOT: The Only Move That Matters is Your Next One and Life After College, which is based on her blog of the same name. Today you can find her at JennyBlake.me where she explores systems at the intersection of mind, body and business.
In her latest book, Pivot, Jenny outlines a 4-step process for making a change in your career or life, which we get into on the call. As I expected, Jenny shared some real gold in this interview and I had a hard time choosing my favorite tweetable quote (see below the image)!
Alright, let's go hang out with Jenny…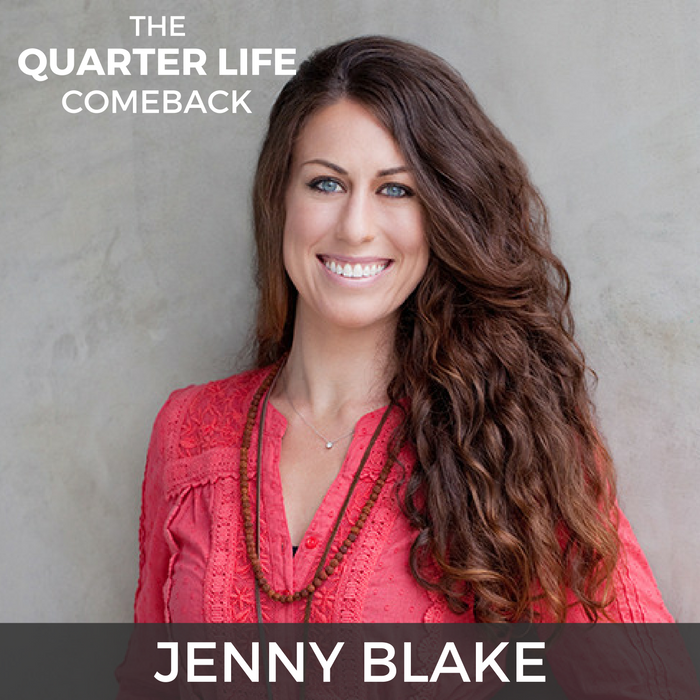 "Don't wait for someone to give you permission" (Tweet this)
IN THIS EPISODE, YOU WILL LEARN:
How your career and life is like a smart phone (this is gold!)
How to juggle your multiple passions and interests
The difference between a Pivot and a 180
The 4 stages of a successful career Pivot
How to know when it's time for a change
Why there's no such thing as a quarter life crisis
RESOURCES & LINKS MENTIONED IN THIS EPISODE:
Finally, you can hang out with Jenny on the various social media channels below:
Website | Twitter | Facebook | Instagram | LinkedIn
THANKS FOR LISTENING!
If you enjoyed this episode, shoot me a tweet @BryanTeare and let me know your biggest takeaways. Feel free to share it around with your friends so they can benefit from the podcast as well.
Also, I'd be really grateful if you could leave an honest rating & review for The Quarter Life Comeback on iTunes. They're extremely helpful in terms of the rankings and visibility of the show, and I read each and every one of them personally 🙂
Finally, don't forget to subscribe on iTunes, Stitcher or TuneIn to receive new episodes as soon as they go live!
Thanks again for joining me on the show, Jenny, and for sharing your wisdom.
P.S. Want to support The Quarter Life Comeback? Now you can by becoming a patron! Click here to learn more.
Intro by Daniella Pellegrini | Music Credit: CharlestheFirst – Letting Go
READY TO CREATE YOUR COMEBACK?
Sign up below to get even more episodes like this as soon as they go live! You'll also receive exclusive subscribers-only content, news, and updates on products and services via email. Unsubscribe at any time.