Today I'm excited to welcome Brian Drury to The Quarter Life Comeback podcast.
Like so many of us, Brian was fed the story that if we work hard, get good grades and graduate from a good college, life would be good. However, after graduating, Brian soon realized that there's so much more to it than that.
He started to learn about the potential that life holds by reading about others who were doing extraordinary things, and soon began his own journey of personal development.
What I love about Brian's story is that he's still working in a "normal" job while he builds up his own work at the same time, including writing a book, hosting a podcast and running a group coaching program.
This was my favorite interview to host so far, and I urge you to check it out.
"We're so much closer to our goals and dreams than we think" (Tweet this)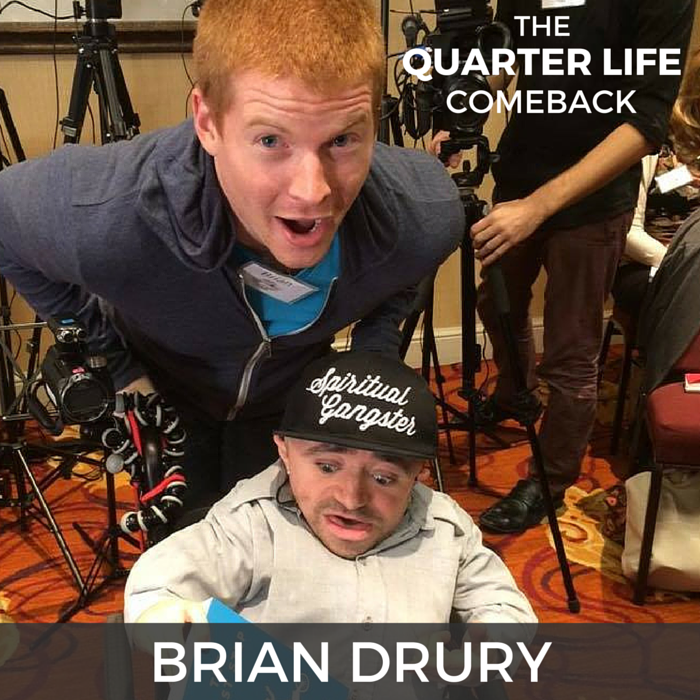 IN THIS EPISODE, YOU WILL LEARN:
The lie we've been told for too long
How to create your dream life while still working a normal job
The dangers of perfection
How to find a mentor (and how not to do it)
RESOURCES & LINKS MENTIONED IN THIS EPISODE:
Brian was also kind enough to offer a FREE giveaway for all Quarter Life Comeback listeners which you can access here.
Finally, you can hang out with Brian on the various social media channels below:
Website | Twitter | Facebook | Instagram
THANKS FOR LISTENING!
If you enjoyed this episode, shoot me a tweet @bryanteare and let me know your biggest takeaways. Feel free to share it around with your friends so they can benefit from the podcast as well.
Also, I'd be really grateful if you could leave an honest rating & review for The Quarter Life Comeback on iTunes. They're extremely helpful in terms of the rankings and visibility of the show, and I read each and every one of them personally 🙂
Finally, don't forget to subscribe on iTunes or Stitcher to receive new episodes as soon as they go live!
Thanks again for joining me on the show, Brian, and for sharing your story.
P.S. Want to support The Quarter Life Comeback? Now you can by becoming a patron! Click here to learn more.
Intro by Daniella Pellegrini | Music Credit: CharlestheFirst – Letting Go
READY TO CREATE YOUR COMEBACK?
Sign up below to get even more episodes like this as soon as they go live! You'll also receive exclusive subscribers-only content, news, and updates on products and services via email. Unsubscribe at any time.