Today I'm excited to welcome Smiley Poswolsky to The Quarter Life Comeback podcast.
Smiley Poswolsky is a speaker and author of The Quarter-Life Breakthrough, a book he wrote to document what he was going through in his late twenties and help others navigate the same situation.
Smiley was working in an awesome job, making good money with all the benefits you would want. Yet despite all this, he had this feeling that things didn't quite feel right. He wanted to write and create community.
After finding people who believed in his dreams, Smiley made the move and now shares his knowledge as an expert on millennials and the career market.
He describes his work as being for people who were told "That's not possible, you can't do that, you're not good enough, you're too young or too old, you don't have the money or the connections, it's too late," and took a deep breath, listened to their heart, and went out and did it anyway."
Alright, let's go hang out with Smiley…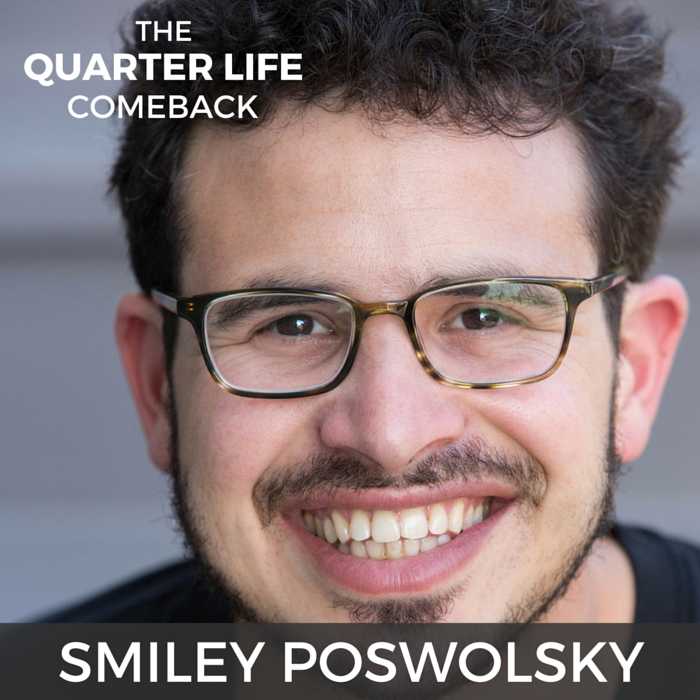 "Sometimes you just gotta go for it" (Tweet this)
IN THIS EPISODE, YOU WILL LEARN:
How to deal with FOMO when everyone on Facebook is doing cool stuff
How to use social media in a healthier way
Why we are not the Me Me Me generation
What IS meaningful work and how to find it
How to make your own unique impact
RESOURCES & LINKS MENTIONED IN THIS EPISODE:
If you like this interview, make sure you check out part 2 where we discuss topics such as why following your passion is terrible advice, why the current career model is outdated and other books you need to be reading as a quarter lifer.
Finally, you can hang out with Smiley on the various social media channels below:
Website | Twitter | Facebook | Instagram | LinkedIn
THANKS FOR LISTENING!
If you enjoyed this episode, shoot me a tweet @BryanTeare and let me know your biggest takeaways. Feel free to share it around with your friends so they can benefit from the podcast as well.
Also, I'd be really grateful if you could leave an honest rating & review for The Quarter Life Comeback on iTunes. They're extremely helpful in terms of the rankings and visibility of the show, and I read each and every one of them personally 🙂
Finally, don't forget to subscribe on iTunes, Stitcher or TuneIn to receive new episodes as soon as they go live!
Thanks again for joining me on the show, Smiley, and for sharing your story.
P.S. Want to support The Quarter Life Comeback? Now you can by becoming a patron! Click here to learn more.
Intro by Daniella Pellegrini | Music Credit: CharlestheFirst – Letting Go
READY TO CREATE YOUR COMEBACK?
Sign up below to get even more episodes like this as soon as they go live! You'll also receive exclusive subscribers-only content, news, and updates on products and services via email. Unsubscribe at any time.