Note from the host: Ready to create your own quarter life comeback? Get exclusive subscribers-only content and other cool stuff for rocking your journey by [cp_modal id="cp_id_43e62″]clicking here. [/cp_modal]
Today I'm excited to welcome Hanna Bier to The Quarter Life Comeback podcast.
Just a few years ago, Hanna was living in Bali, on her way to graduating from college with a degree in International Fashion Management.
However, while her life looked amazing on the outside, inside she was barely holding on.
Throughout her life, Hanna struggled with mental illnesses such as PTSD, anxiety, depression as well as an eating disorder, and even considered taking her own life.
Facing a tough decision, Hanna knew that there was no way she could take care of her emotional needs, fulfil her dreams AND grow into the person she was capable of becoming while working in her corporate job.
By developing a spiritual practice, Hanna was able to release her anxiety, heal her trauma and build a thriving business, where she now helps other creative women do the same.
"Whatever happens is here because I need it" (Tweet this)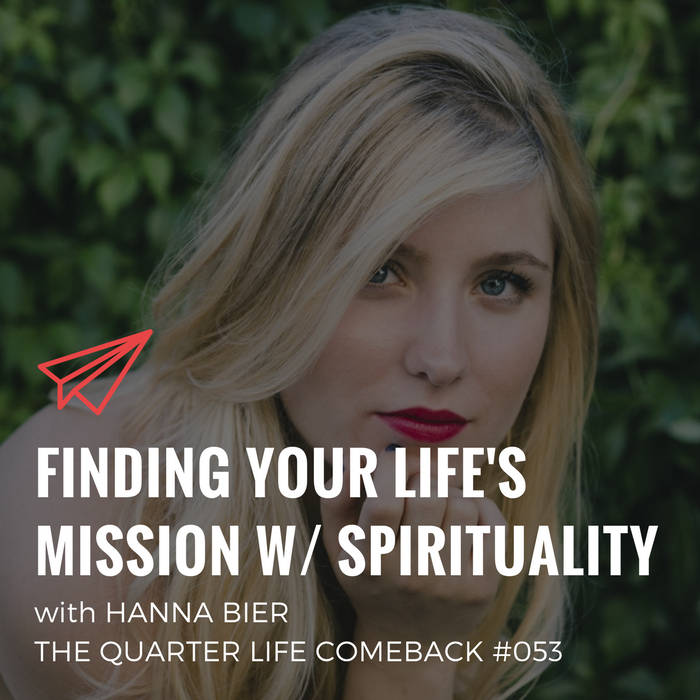 IN THIS EPISODE, YOU WILL LEARN:
The thing most people don't understand about suicide
Can you really be a life coach at 22?
What it really means to be spiritual
Accepting things as they are versus fighting for what we want
How to put yourself in a meditative state to receive powerful visions
How to discover the work you were meant to create
RESOURCES & LINKS MENTIONED IN THIS EPISODE:
Finally, you can hang out with Hanna on the various social media channels below:
THANKS FOR LISTENING!
If you enjoyed this episode, shoot me a tweet @BryanTeare and let me know your biggest takeaways. Feel free to share it around with your friends so they can benefit from the podcast as well.
Also, I'd be really grateful if you could leave an honest rating & review for The Quarter Life Comeback on iTunes. They're extremely helpful in terms of the rankings and visibility of the show, and I read each and every one of them personally 🙂
Finally, don't forget to subscribe on iTunes, Stitcher, SoundCloud or TuneIn to receive new episodes as soon as they go live!
Thanks again for joining me on the show, Hanna, and for sharing your message.
P.S. Want to support The Quarter Life Comeback? Now you can by becoming a patron! Click here to learn more.
Intro by Daniella Pellegrini | Music Credit: CharlestheFirst – Letting Go
READY TO CREATE YOUR COMEBACK?
Sign up below to get even more episodes like this as soon as they go live! You'll also receive exclusive subscribers-only content, news, and updates on products and services via email. Unsubscribe at any time.