Note from the host: Ready to create your own quarter life comeback? Get exclusive subscribers-only content and other cool stuff for rocking your journey by [cp_modal id="cp_id_43e62″]clicking here. [/cp_modal]
Today I'm excited to welcome Fadela Hilali to The Quarter Life Comeback podcast.
Fadela Hilali is a coach, speaker and author specialising in helping busy successful entrepreneurs who thrive in business but lack in their personal life and wellbeing.
Despite her professional achievements and the recognition of her peers, Fadela just couldn't fill the emotional void she felt in her personal life. She thought that if things around her changed, she would eventually feel happy.
Fadela then learned to trust and love herself by letting go of things (and people) that didn't serve her, breaking down her dreams into smaller steps and embracing the motto "I can be happy NOW" while building the life she wanted.
In her new book, Stuffed, Fadela helps readers explore the complex relationship between our beliefs, emotional habits and food. Food is only one way people use to feel stuffed and Fadela focuses on the individual patterns and beliefs that lead countless successful individuals to feeling empty.
"The less you control, the easier it is" (Tweet this)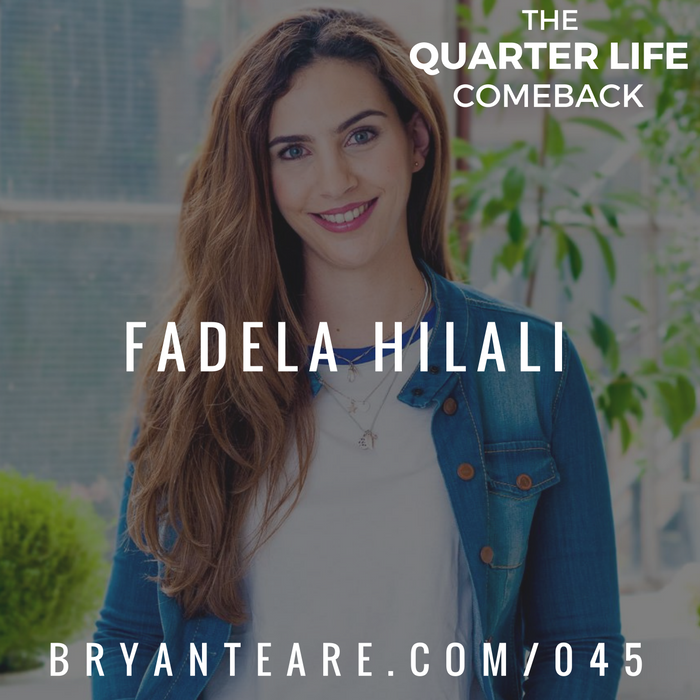 IN THIS EPISODE, YOU WILL LEARN:
How Fadela figured out what she wanted to do in life
Why crappy jobs are just as valuable as the good ones
How to deal with "I'll be happy when…"
Why we think we're not already good enough
Why we're comparing ourselves more than ever before
Fadela's top tip for dealing with self-doubt
RESOURCES & LINKS MENTIONED IN THIS EPISODE:
Finally, you can hang out with Fadela on the various social media channels below:
Website | Email | Twitter | Facebook | Instagram | YouTube
THANKS FOR LISTENING!
If you enjoyed this episode, shoot me a tweet @BryanTeare and let me know your biggest takeaways. Feel free to share it around with your friends so they can benefit from the podcast as well.
Also, I'd be really grateful if you could leave an honest rating & review for The Quarter Life Comeback on iTunes. They're extremely helpful in terms of the rankings and visibility of the show, and I read each and every one of them personally 🙂
Finally, don't forget to subscribe on iTunes, Stitcher, SoundCloud or TuneIn to receive new episodes as soon as they go live!
Thanks again for joining me on the show, Fadela, and for sharing your message.
P.S. Want to support The Quarter Life Comeback? Now you can by becoming a patron! Click here to learn more.
Intro by Daniella Pellegrini | Music Credit: CharlestheFirst – Letting Go

READY TO CREATE YOUR COMEBACK?
Sign up below to get even more episodes like this as soon as they go live! You'll also receive exclusive subscribers-only content, news, and updates on products and services via email. Unsubscribe at any time.