Note from the host: Ready to create your own quarter life comeback? Get exclusive subscribers-only content and other cool stuff for rocking your journey by [cp_modal id="cp_id_43e62″]clicking here. [/cp_modal]
Today I'm excited to welcome Talia Pollock to The Quarter Life Comeback podcast.
Talia Pollock is a former stand-up comedian turned health coach, blogger and YouTuber who helps take the hell outta healthy eating.
Growing up, Talia's dream was to become a writer, but it wasn't until college that she realised she could write funny things, too. She ended up becoming her school's humour columnist and later, a stand-up comedian.
But the lifestyle that comes with late-night performances didn't really fit in with Talia's desired lifestyle, and her health started to suffer. After receiving no real help from any doctors or medicine, she decided to take her health into her own hands and developed a love for plant-based nutrition.
Talia then decided (and successfully managed) to combine her love of comedy and health to create her health coaching business, Party in My Plants. In doing so, she's used her funny, infectious personality to add a refreshing twist to the health industry, and we had a lot of fun on the interview.
"Try a lot of new things that you're finding interesting" (Tweet this)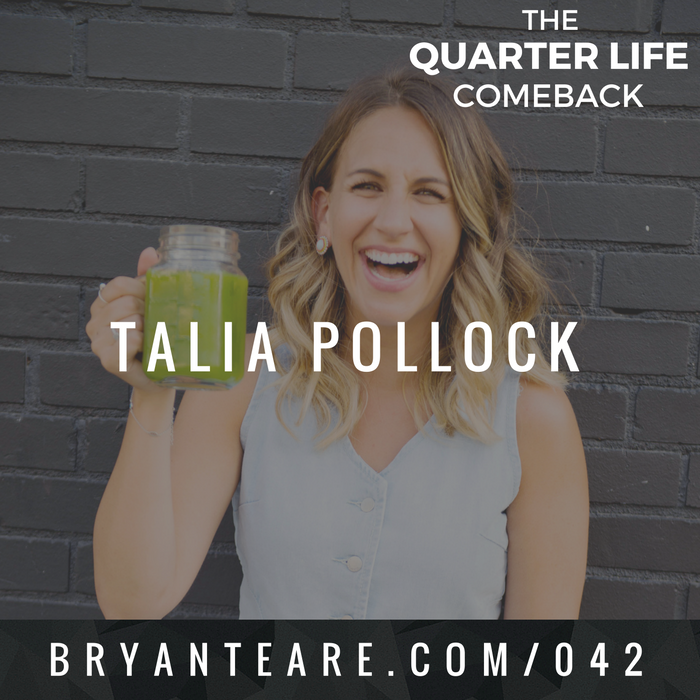 IN THIS EPISODE, YOU WILL LEARN:
How to balance a healthy lifestyle with a happy social life
A healthier way to drink alcohol
The most common health issue in twenty-somethings
How to combine your different interests into a career
How Talia transitioned from comedy to health coaching
The importance of being uniquely YOU
RESOURCES & LINKS MENTIONED IN THIS EPISODE:
Finally, you can hang out with Talia on the various social media channels below:
Website | Twitter | Facebook | Instagram | YouTube | Pinterest
THANKS FOR LISTENING!
If you enjoyed this episode, shoot me a tweet @BryanTeare and let me know your biggest takeaways. Feel free to share it around with your friends so they can benefit from the podcast as well.
Also, I'd be really grateful if you could leave an honest rating & review for The Quarter Life Comeback on iTunes. They're extremely helpful in terms of the rankings and visibility of the show, and I read each and every one of them personally 🙂
Finally, don't forget to subscribe on iTunes, Stitcher, SoundCloud or TuneIn to receive new episodes as soon as they go live!
Thanks again for joining me on the show, Talia, and for sharing your story.
P.S. Want to support The Quarter Life Comeback? Now you can by becoming a patron! Click here to learn more.
Intro by Daniella Pellegrini | Music Credit: CharlestheFirst – Letting Go
READY TO CREATE YOUR COMEBACK?
Sign up below to get even more episodes like this as soon as they go live! You'll also receive exclusive subscribers-only content, news, and updates on products and services via email. Unsubscribe at any time.