Note from the host: Ready to create your own quarter life comeback? Get exclusive subscribers-only content and other cool stuff for rocking your journey by [cp_modal id="cp_id_43e62″]clicking here. [/cp_modal]
Today I'm excited to share another solo episode for The Quarter Life Comeback podcast.
I was recently honored to be invited back to my high school as the guest speaker for their annual Summer Sports Awards.
As you know, being a motivational speaker at an event was one of the items on my Life List, so I was stoked to be able to cross that off.
But more than that, I was excited to be able to share some of the best things I've learned from hosting a weekly podcast for the last 57 weeks with a young audience about to go out into the real world.
I'd love to be able to tell you it felt really natural and easy, but the truth is I felt far from comfortable. Just like before a big game with our rival school, my hands were shaking, my palms sweaty and my heart beat a little faster.
But then a funny thing happened. Once I got into it, I relaxed and really enjoyed myself. In fact, the whole experience has got me pumped to do more events like this and kickstart my speaking career.
You can see some footage from the talk here, but make sure you follow me on Instagram and Facebook where I'll share more as it comes out.
Finally, if you know of any groups looking for a speaker, please let me know! I'd love to share what I've learned with more people 🙂
"If you don't know where you're going, you're never going to get there" (Tweet this)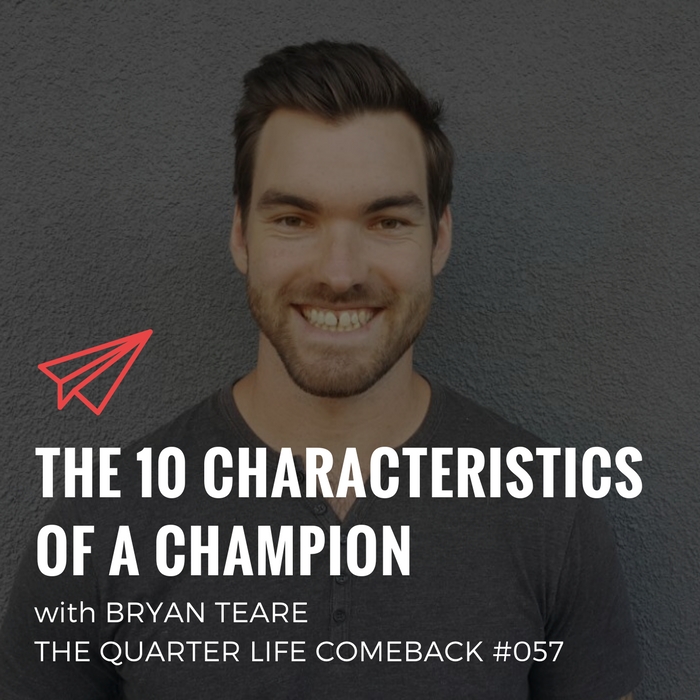 IN THIS EPISODE, YOU WILL LEARN:
The 10 characteristics for becoming a champion
How to start turning your vision into a reality
The 2 most important rituals to adopt right now
Why your dreams are like road trips
How to find your purpose
The 3 components of a winning team
RESOURCES & LINKS MENTIONED IN THIS EPISODE:
Finally, you can hang out with me on the various social media channels below:
Website | Email | Twitter | Facebook | Instagram | YouTube | LinkedIn
THANKS FOR LISTENING!
If you enjoyed this episode, shoot me a tweet @BryanTeare and let me know your biggest takeaways. Feel free to share it around with your friends so they can benefit from the podcast as well.
Also, I'd be really grateful if you could leave an honest rating & review for The Quarter Life Comeback on iTunes. They're extremely helpful in terms of the rankings and visibility of the show, and I read each and every one of them personally 🙂
Finally, don't forget to subscribe on iTunes, Stitcher, SoundCloud or TuneIn to receive new episodes as soon as they go live!
Thanks again for joining me on the show!
P.S. Want to support The Quarter Life Comeback? Now you can by becoming a patron! Click here to learn more.
Intro by Daniella Pellegrini | Music Credit: CharlestheFirst – Letting Go
READY TO CREATE YOUR COMEBACK?
Sign up below to get even more episodes like this as soon as they go live! You'll also receive exclusive subscribers-only content, news, and updates on products and services via email. Unsubscribe at any time.