Note from the host: Ready to create your own quarter life comeback? Get exclusive subscribers-only content and other cool stuff for rocking your journey by [cp_modal id="cp_id_43e62″]clicking here. [/cp_modal]
Today I'm excited to welcome Ashley Taylor Yannello to The Quarter Life Comeback podcast.
Ashley Taylor Yannello is a speaker and hostess of a daily podcast where she speaks about being real, raw and vulnerable.
Back in her twenties, Ashley packed up her things and headed for New York with $1000. But shortly thereafter, she had all her money stolen, her boyfriend cheated on her and she lost everything. Ashley then had to make the tough decision of moving back to Chicago where she began building back up.
From being rejected for food stamps to sleeping on a yoga mat, Ashley experienced many failures and learned some hard truths along the way. Yet somehow, she still managed to bounce back and find her feet again.
Ashley now believes in tapping into our intuition or gut feeling and being unapologetically real and raw, which we explore in the interview.
"If I'm going to do something, I might as well do it now" (Tweet this)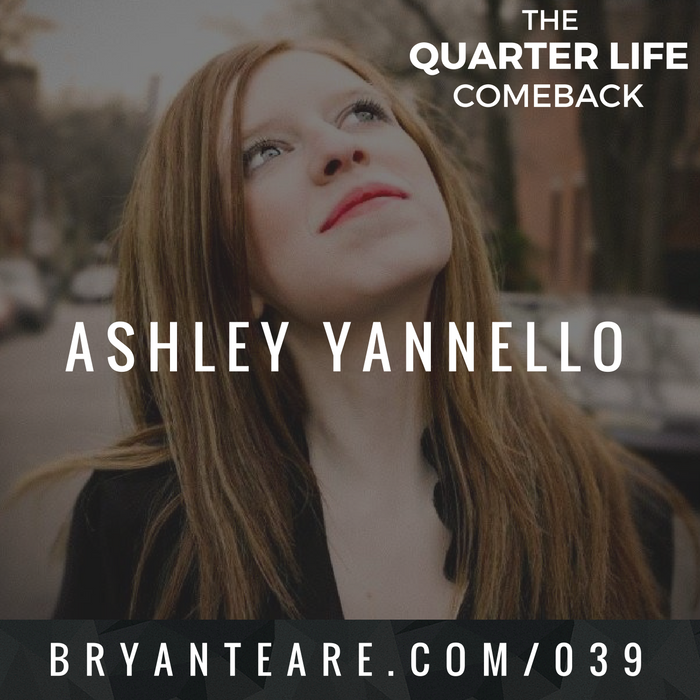 IN THIS EPISODE, YOU WILL LEARN:
How Ashley lost everything (and bounced back again)
The unexpected factor in turning failures into a lesson
How to let go of relationships that aren't serving you
How to recognize and trust your gut feeling
How to overcome the comparison trap of social media
The difference between authenticity and oversharing
RESOURCES & LINKS MENTIONED IN THIS EPISODE:
Finally, you can hang out with Ashley on the various social media channels below:
Website | Twitter | Facebook | Instagram
THANKS FOR LISTENING!
If you enjoyed this episode, shoot me a tweet @BryanTeare and let me know your biggest takeaways. Feel free to share it around with your friends so they can benefit from the podcast as well.
Also, I'd be really grateful if you could leave an honest rating & review for The Quarter Life Comeback on iTunes. They're extremely helpful in terms of the rankings and visibility of the show, and I read each and every one of them personally 🙂
Finally, don't forget to subscribe on iTunes, Stitcher, SoundCloud or TuneIn to receive new episodes as soon as they go live!
Thanks again for joining me on the show, Ashley, and for sharing your story.
P.S. Want to support The Quarter Life Comeback? Now you can by becoming a patron! Click here to learn more.
Intro by Daniella Pellegrini | Music Credit: CharlestheFirst – Letting Go
READY TO CREATE YOUR COMEBACK?
Sign up below to get even more episodes like this as soon as they go live! You'll also receive exclusive subscribers-only content, news, and updates on products and services via email. Unsubscribe at any time.