Note from the host: Ready to create your own quarter life comeback? Get exclusive subscribers-only content and other cool stuff for rocking your journey by [cp_modal id="cp_id_43e62″]clicking here. [/cp_modal]
Today I'm excited to welcome Jessica Allossery to The Quarter Life Comeback.
I first met Jess at the Vipassana meditation retreat I attended earlier this year. After returning home, I soon discovered just how awesome she really is!
Having grown up on a farm, Jess went on a 1-year exchange to Brazil before attending college. While there, she decided to teach herself how to play the guitar after being inspired by other indie cover musicians on YouTube.
9 years later, Jess has played in front of international audiences and big corporate clients, has been featured on TV and radio outlets and has a loyal fan base (including millions of views and 30 000+ YouTube subscribers)!
This was a really fun interview and just goes to show that if you love something enough and keep at it, the results are just a matter of time.
"If you love it enough, the fear won't hold you back" (Tweet this)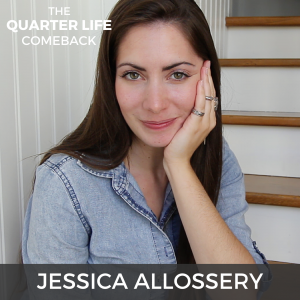 IN THIS EPISODE, YOU WILL LEARN:
How Jessica first discovered music
The power of consistency and momentum
Why you don't need to have everything figured out before starting
The danger of expectations
Tips for building a loyal fan base
The 3 biggest things she's learned along the way
RESOURCES & LINKS MENTIONED IN THIS EPISODE:
As promised in the interview, here are some videos from Jessica's YouTube channel:
Finally, you can hang out with Jessica on the various social media channels below:
Website | YouTube | Twitter | Facebook | Instagram
THANKS FOR LISTENING!
If you enjoyed this episode, shoot me a tweet @bryanteare and let me know your biggest takeaways. Feel free to share it around with your friends so they can benefit from the podcast as well.
Also, I'd be really grateful if you could leave an honest rating & review for The Quarter Life Comeback on iTunes. They're extremely helpful in terms of the rankings and visibility of the show, and I read each and every one of them personally 🙂
Finally, don't forget to subscribe on iTunes or Stitcher to receive new episodes as soon as they go live!
Thanks again for joining me on the show, Jess, and for sharing your story.
P.S. Want to support The Quarter Life Comeback? Now you can by becoming a patron! Click here to learn more.
Intro by Daniella Pellegrini | Music Credit: CharlestheFirst – Letting Go
READY TO CREATE YOUR COMEBACK?
Sign up below to get even more episodes like this as soon as they go live! You'll also receive exclusive subscribers-only content, news, and updates on products and services via email. Unsubscribe at any time.