Today I'm excited to welcome Jules Schroeder to The Quarter Life Comeback podcast.
Jules Schroeder is an entrepreneur, speaker, writer, marketing consultant, musician, podcast host and an expert on millennials who helps people along their unconventional paths and teaches them how to profit from their passions.
At 27, Jules is creating a movement to empower young adults to choose themselves by learning strategies from top experts. Jules launched her first 6-figure company at the age of 18 and her first 7-figure company at 22. But then, after one of her partners went behind her back, she lost it all.
Apart from being a badass businesswoman, Jules is also a singer, speaker, and adventure enthusiast. After spending some time together in the interview, Jules quickly became one of my new favorite people!
"When you say no to things, more things come" (Tweet this)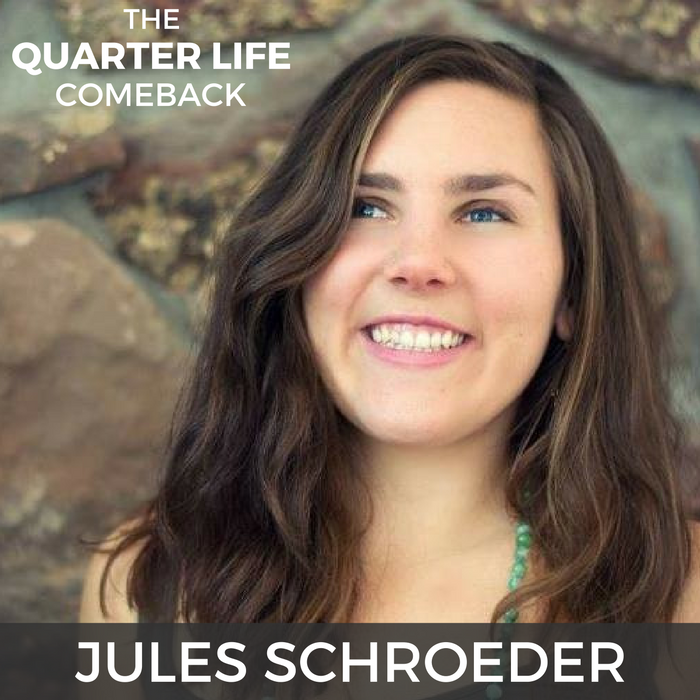 IN THIS EPISODE, YOU WILL LEARN:
How Jules started a 6-figure business at 18 (and 7 figures at 22!) and then lost it all
Why your unsexy job is a blessing in disguise
How to attract high-level opportunities and contacts
Jules' "game" to get context and figure out what you want
Some unconventional ways people are making a living
The key to finding sustainable success
RESOURCES & LINKS MENTIONED IN THIS EPISODE:
Finally, you can hang out with Jules on the various social media channels below:
Website | Facebook | YouTube | LinkedIn | SoundCloud
THANKS FOR LISTENING!
If you enjoyed this episode, shoot me a tweet @BryanTeare and let me know your biggest takeaways. Feel free to share it around with your friends so they can benefit from the podcast as well.
Also, I'd be really grateful if you could leave an honest rating & review for The Quarter Life Comeback on iTunes. They're extremely helpful in terms of the rankings and visibility of the show, and I read each and every one of them personally 🙂
Finally, don't forget to subscribe on iTunes, Stitcher, SoundCloud or TuneIn to receive new episodes as soon as they go live!
Thanks again for joining me on the show, Jules, and for sharing your story.
P.S. Want to support The Quarter Life Comeback? Now you can by becoming a patron! Click here to learn more.
Intro by Daniella Pellegrini | Music Credit: CharlestheFirst – Letting Go
READY TO CREATE YOUR COMEBACK?
Sign up below to get even more episodes like this as soon as they go live! You'll also receive exclusive subscribers-only content, news, and updates on products and services via email. Unsubscribe at any time.