Note from the host: Ready to create your own quarter life comeback? Get exclusive subscribers-only content and other cool stuff for rocking your journey by [cp_modal id="cp_id_43e62″]clicking here. [/cp_modal]
Today I'm excited to welcome Joe Sanok to The Quarter Life Comeback podcast.
Joe Sanok is a speaker, mental health counsellor, business consultant, and podcaster. He has been featured on the Huffington Post, Readers Digest, Bustle and Yahoo News, and is also the author of five books.
Joe spent a lot of his twenties travelling and figuring out what it was he wanted to do with his life. Now, as a practising counsellor, he works with a lot of twenty-something clients who are trying to get clear on their life path.
Joe also went through a series of challenging family events in 2012, which forced him slow down and take a closer look at how he was doing things.
"Your best ideas come when you slow down" (Tweet this)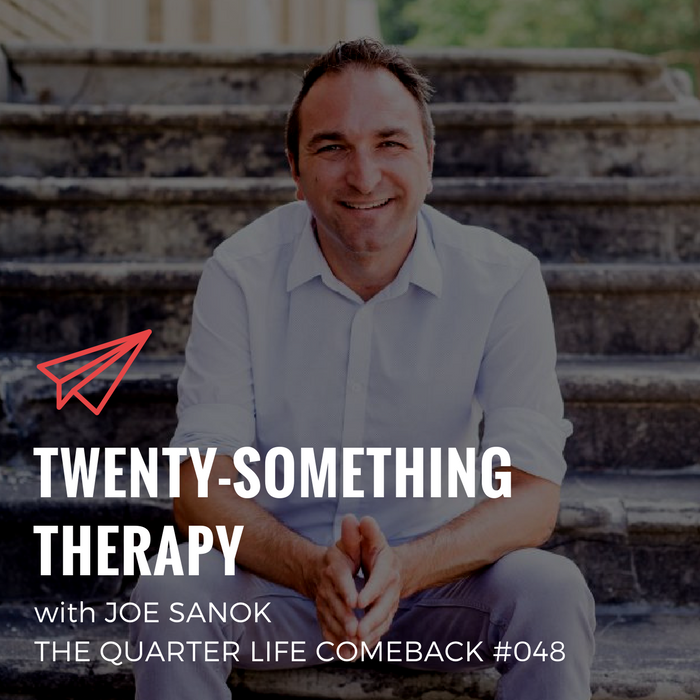 IN THIS EPISODE, YOU WILL LEARN:
Ways we're damaging our brains (and what to do about it)
How to find your life path in your twenties
How to tell if it's time to leave your job for your side gig
Advice for dealing with major grief, trauma or crisis
Tips for levelling up in your twenties
Joe's 7 steps for setting, achieving and outsourcing goals
RESOURCES & LINKS MENTIONED IN THIS EPISODE:
Finally, you can hang out with Joe on the various social media channels below:
Website | Twitter | Facebook | Instagram | LinkedIn
THANKS FOR LISTENING!
If you enjoyed this episode, shoot me a tweet @BryanTeare and let me know your biggest takeaways. Feel free to share it around with your friends so they can benefit from the podcast as well.
Also, I'd be really grateful if you could leave an honest rating & review for The Quarter Life Comeback on iTunes. They're extremely helpful in terms of the rankings and visibility of the show, and I read each and every one of them personally 🙂
Finally, don't forget to subscribe on iTunes, Stitcher, SoundCloud or TuneIn to receive new episodes as soon as they go live!
Thanks again for joining me on the show, Joe, and for sharing your wisdom.
P.S. Want to support The Quarter Life Comeback? Now you can by becoming a patron! Click here to learn more.
Intro by Daniella Pellegrini | Music Credit: CharlestheFirst – Letting Go
READY TO CREATE YOUR COMEBACK?
Sign up below to get even more episodes like this as soon as they go live! You'll also receive exclusive subscribers-only content, news, and updates on products and services via email. Unsubscribe at any time.