Note from the host: Ready to create your own quarter life comeback? Get exclusive subscribers-only content and other cool stuff for rocking your journey by [cp_modal id="cp_id_43e62″]clicking here. [/cp_modal]
Today I'm excited to welcome Gregory Diehl to The Quarter Life Comeback podcast.
Gregory Diehl is an author, podcaster and brand strategist.
After facing the choice between furthering his education and getting a job, Gregory realized that neither of those options really excited him. He wanted to be challenged in a way he hadn't felt before.
He subsequently found this excitement when a friend invited him to Costa Rica, where he ended up staying for 9 months.
This trip ignited a love for travel that Gregory has been exploring ever since. He's visited over 50 countries around the world, while at the same time building a successful business and writing several books.
"I can only keep moving forward" (Tweet this)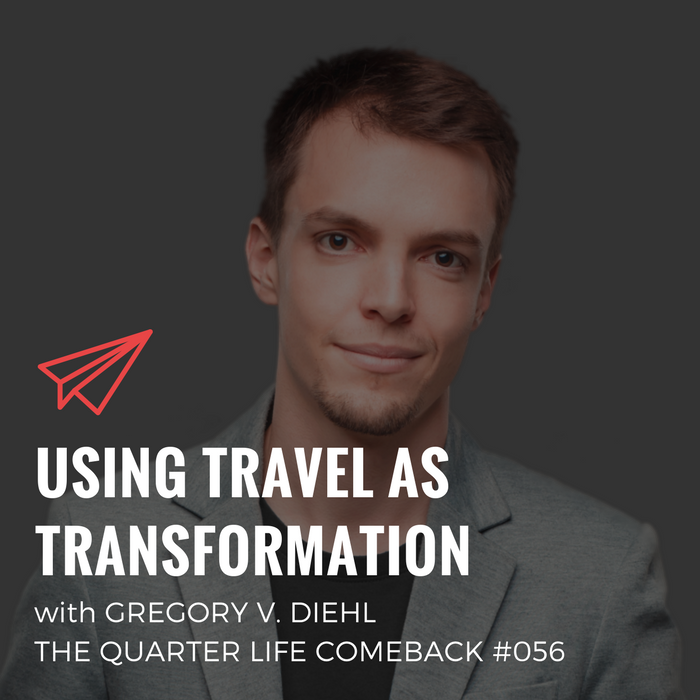 IN THIS EPISODE, YOU WILL LEARN:
How Greg got into travel and why he fell in love with it
How to readjust to the 'real world' after coming home
Can you have a powerful transformation without travelling?
Does travelling mean you're running away from something?
How to maintain personal relationships on the road
Greg's top 3 tips for living an unconventional life
RESOURCES & LINKS MENTIONED IN THIS EPISODE:
Finally, you can hang out with Gregory on the various social media channels below:
Website | Email | Twitter | Facebook | Instagram
THANKS FOR LISTENING!
If you enjoyed this episode, shoot me a tweet @BryanTeare and let me know your biggest takeaways. Feel free to share it around with your friends so they can benefit from the podcast as well.
Also, I'd be really grateful if you could leave an honest rating & review for The Quarter Life Comeback on iTunes. They're extremely helpful in terms of the rankings and visibility of the show, and I read each and every one of them personally 🙂
Finally, don't forget to subscribe on iTunes, Stitcher, SoundCloud or TuneIn to receive new episodes as soon as they go live!
Thanks again for joining me on the show, Gregory, and for sharing your story.
P.S. Want to support The Quarter Life Comeback? Now you can by becoming a patron! Click here to learn more.
Intro by Daniella Pellegrini | Music Credit: CharlestheFirst – Letting Go
READY TO CREATE YOUR COMEBACK?
Sign up below to get even more episodes like this as soon as they go live! You'll also receive exclusive subscribers-only content, news, and updates on products and services via email. Unsubscribe at any time.