Note from the host: Ready to create your own quarter life comeback? Get exclusive subscribers-only content and other cool stuff for rocking your journey by [cp_modal id="cp_id_43e62″]clicking here. [/cp_modal]
Today I'm excited to welcome Ryan Robinson to The Quarter Life Comeback podcast.
Ryan Robinson is an entrepreneur, content marketer and freelancer who teaches thousands of people how to validate and launch a profitable side business while still working in their full-time job.
After creating a promising side business early in his career, Ryan's boss denied him the opportunity to work on both. Ryan decided to take that as a sign to quit and focus on his biz full time.
However, that premature decision led to Ryan having to move back home with his parents.
From there, he took a regular job while he worked on new side projects, and recently managed to go on his own full-time again, but this time with the financial means necessary to make it work.
Ryan now teaches others how to do the same, so that we can avoid the failures he experienced when trying to quit our jobs and become self-employed.
"Do not try to find or follow your passion" (Tweet this)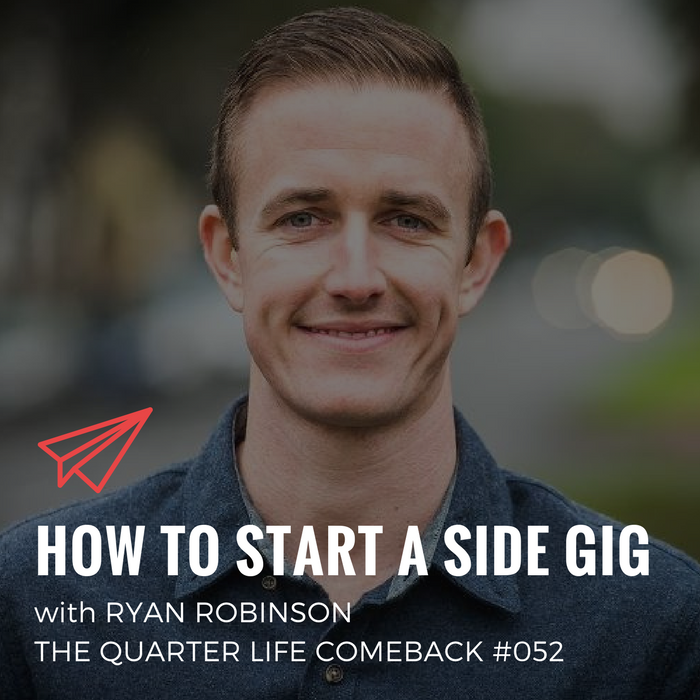 IN THIS EPISODE, YOU WILL LEARN:
Lessons learned in quitting a job too soon (and what to do first)
How to handle moving back in with your parents
The #1 reason for having a side project
Ryan's rule for when it's time to quit your job for your side gig
How to choose WHAT to start a side gig about
Why we shouldn't try find/follow our passion (and what to do instead)
How to find time to work on your side gig while still employed
RESOURCES & LINKS MENTIONED IN THIS EPISODE:
Finally, you can hang out with Ryan on the various social media channels below:
Website | Email | Twitter | Facebook | Instagram | LinkedIn
THANKS FOR LISTENING!
If you enjoyed this episode, shoot me a tweet @BryanTeare and let me know your biggest takeaways. Feel free to share it around with your friends so they can benefit from the podcast as well.
Also, I'd be really grateful if you could leave an honest rating & review for The Quarter Life Comeback on iTunes. They're extremely helpful in terms of the rankings and visibility of the show, and I read each and every one of them personally 🙂
Finally, don't forget to subscribe on iTunes, Stitcher, SoundCloud or TuneIn to receive new episodes as soon as they go live!
Thanks again for joining me on the show, Ryan, and for sharing your story.
P.S. Want to support The Quarter Life Comeback? Now you can by becoming a patron! Click here to learn more.
Intro by Daniella Pellegrini | Music Credit: CharlestheFirst – Letting Go
READY TO CREATE YOUR COMEBACK?
Sign up below to get even more episodes like this as soon as they go live! You'll also receive exclusive subscribers-only content, news, and updates on products and services via email. Unsubscribe at any time.