Note from the host: Ready to create your own quarter life comeback? Get exclusive subscribers-only content and other cool stuff for rocking your journey by [cp_modal id="cp_id_43e62″]clicking here. [/cp_modal]
Today I'm excited to welcome Tom Asacker to The Quarter Life Comeback podcast.
Tom Asacker is an artist, business philosopher, speaker and author of several books.
Through his career, Tom has experimented with many different roles, including an artist, executive, speaker, business strategist, author, and more.
After chatting to a friend whose son felt stuck in his twenties, Tom thought of an idea for a movie in which we could erase our thoughts and replace them. That's when I Am Keats was born, which then lead to a book and novel.
Tom discusses how our thoughts and beliefs are simply stories we tell ourselves, and limit what we're truly capable of becoming.
This is hands down my favorite and most powerful episode so far, and the one I wish EVERYONE could hear.
"Your passion is not out there. It's in you." (Tweet this)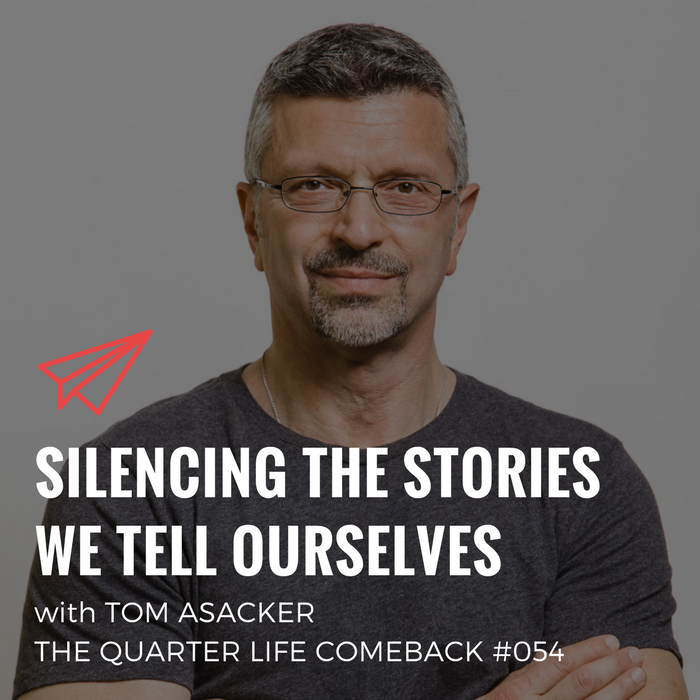 IN THIS EPISODE, YOU WILL LEARN:
How our beliefs are limiting our potential
The 3 C's to finding fulfilment in life and work
Should we try stop self-talk or learn not to listen to it?
The only way to shut off the negative voice in your head
Why positive self-talk is no more helpful than negative self-talk
How we're getting mindfulness and meditation wrong
Why everything we call reality is made up
RESOURCES & LINKS MENTIONED IN THIS EPISODE:
Finally, you can hang out with Tom on the various social media channels below:
THANKS FOR LISTENING!
If you enjoyed this episode, shoot me a tweet @BryanTeare and let me know your biggest takeaways. Feel free to share it around with your friends so they can benefit from the podcast as well.
Also, I'd be really grateful if you could leave an honest rating & review for The Quarter Life Comeback on iTunes. They're extremely helpful in terms of the rankings and visibility of the show, and I read each and every one of them personally 🙂
Finally, don't forget to subscribe on iTunes, Stitcher, SoundCloud or TuneIn to receive new episodes as soon as they go live!
Thanks again for joining me on the show, Tom, and for sharing your wisdom.
P.S. Want to support The Quarter Life Comeback? Now you can by becoming a patron! Click here to learn more.
Intro by Daniella Pellegrini | Music Credit: CharlestheFirst – Letting Go
READY TO CREATE YOUR COMEBACK?
Sign up below to get even more episodes like this as soon as they go live! You'll also receive exclusive subscribers-only content, news, and updates on products and services via email. Unsubscribe at any time.