Today I'm excited to welcome Matt Trinetti to The Quarter Life Comeback podcast.
Matt Trinetti is a former consultant turned deliberate journeyer and TEDx speaker who took a 7-month sabbatical to Iceland after the passing of a close friend.
Matt had been feeling a sense of "Is this it?" in his job, not hating life, but also not loving it. However, after his friend's passing, Matt decided to fulfil a promise he'd made to himself for years: to slow travel around Europe with no fixed plans, guided only by his curiosity and interest.
Upon his return, Matt decided to quit his job and now helps other young adults find more meaningful work via Escape the City. This episode is packed with awesome tips and resources, and we get into some really powerful stuff.
Alright, let's go hang out with Matt…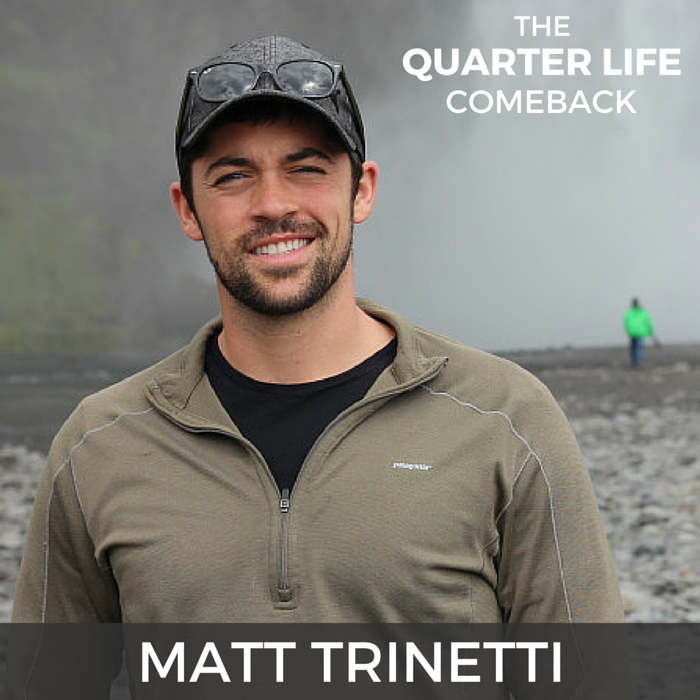 "It's OK if you don't know what you want to do" (Tweet this)
IN THIS EPISODE, YOU WILL LEARN:
The biggest lessons Matt learned while taking a 7-month sabbatical to Iceland
Why "pausing" certain relationships may be good for you
Is travel the golden ticket for everyone?
How to start finding more meaningful work
Why thinking harder isn't the way to "figure things out" (and what is)
How to use little projects to find your direction without quitting your job (yet)
RESOURCES & LINKS MENTIONED IN THIS EPISODE:
Finally, you can hang out with Matt on the various social media channels below:
Website | Twitter | Facebook | Instagram
THANKS FOR LISTENING!
If you enjoyed this episode, shoot me a tweet @BryanTeare and let me know your biggest takeaways. Feel free to share it around with your friends so they can benefit from the podcast as well.
Also, I'd be really grateful if you could leave an honest rating & review for The Quarter Life Comeback on iTunes. They're extremely helpful in terms of the rankings and visibility of the show, and I read each and every one of them personally 🙂
Finally, don't forget to subscribe on iTunes, Stitcher or TuneIn to receive new episodes as soon as they go live!
Thanks again for joining me on the show, Matt, and for sharing your story.
P.S. Want to support The Quarter Life Comeback? Now you can by becoming a patron! Click here to learn more.
Intro by Daniella Pellegrini | Music Credit: CharlestheFirst – Letting Go
READY TO CREATE YOUR COMEBACK?
Sign up below to get even more episodes like this as soon as they go live! You'll also receive exclusive subscribers-only content, news, and updates on products and services via email. Unsubscribe at any time.