Today I'm excited to welcome Zephan Blaxberg to The Quarter Life Comeback podcast.
Zephan is the host of the Year of Purpose Podcast and author of the #1 Amazon Best Seller Life Re-Scripted: Find Your Purpose and Design Your Dream Life Before The Curtains Close. After hearing his story on an interview he did for another podcast, I just knew I had to get him on the show.
Zephan started his career at a big marketing company before being let go when the company was sold. He began freelancing while applying for more jobs, without realizing he could go his own route altogether.
Wanting to make a bigger change, he left his next job to pursue his own video production business full time. Things took off really fast and Zephan's work was soon featured in major sporting venues around the US as well as The White House!
After taking a two-month travel break around the country to get some clarity on who he really was deep down, he then launched his podcast and later, his book, which we chat about in the interview.
There's some real gold in this one and I know you're going to dig it!
"To gain the courage, part of it is seeing the small possibilities inside yourself" (Tweet this)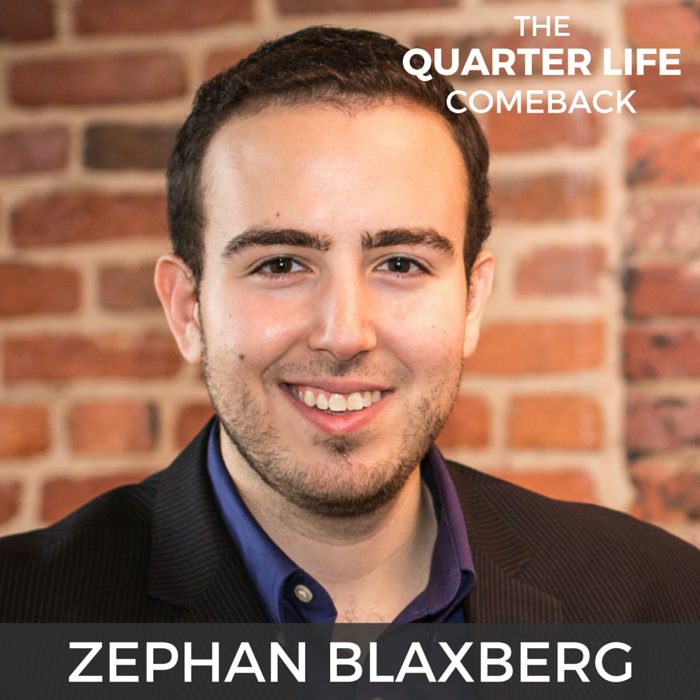 IN THIS EPISODE, YOU WILL LEARN:
Should you build your passion project on the side or go all in?
How to overcome fear and make the leap to freedom a little easier
Why we've been asking the wrong questions when trying to find our purpose (plus what we should be asking instead)
The Life Re-scripted transformation process (plus Zephan's biggest tip)
Letting go of people who don't support your vision
RESOURCES & LINKS MENTIONED IN THIS EPISODE:
Zephan was also kind enough to offer a FREE audio copy of his Life Re-scripted book for all Quarter Life Comeback listeners which you can access here.
Finally, you can hang out with Zephan on the various social media channels below:
Website | Twitter | Facebook | Instagram | YouTube
THANKS FOR LISTENING!
If you enjoyed this episode, shoot me a tweet @BryanTeare and let me know your biggest takeaways. Feel free to share it around with your friends so they can benefit from the podcast as well.
Also, I'd be really grateful if you could leave an honest rating & review for The Quarter Life Comeback on iTunes. They're extremely helpful in terms of the rankings and visibility of the show, and I read each and every one of them personally 🙂
Finally, don't forget to subscribe on iTunes or Stitcher to receive new episodes as soon as they go live!
Thanks again for joining me on the show, Zephan, and for sharing your story.
P.S. Want to support The Quarter Life Comeback? Now you can by becoming a patron! Click here to learn more.
Intro by Daniella Pellegrini | Music Credit: CharlestheFirst – Letting Go
READY TO CREATE YOUR COMEBACK?
Sign up below to get even more episodes like this as soon as they go live! You'll also receive exclusive subscribers-only content, news, and updates on products and services via email. Unsubscribe at any time.