Note from the host: Ready to create your own quarter life comeback? Get exclusive subscribers-only content and other cool stuff for rocking your journey by [cp_modal id="cp_id_43e62″]clicking here. [/cp_modal]
Today I'm excited to welcome James Swanwick to The Quarter Life Comeback podcast.
James Swanwick is a motivational coach, author, speaker, investor, former ESPN anchor on SportsCenter and founder of The 30-Day No Alcohol Challenge.
After returning from a trip to South America, James decided to take a month off from drinking. However, after completing the 30 days and experiencing better mood, focus, energy, skin and more, he decided to keep going as long as he could.
This became a turning point in James' life as his career also took off. He landed a dream job on ESPN and has interviewed world leaders and celebrities including Al Gore, Brad Pitt, Angelina Jolie and Hugh Hefner and New York Times best-selling authors including John Gray and Keith Ferrazzi.
Now 7 years later, James is still alcohol-free and runs The 30-Day No Alcohol Challenge, which helps people to take a month off of drinking to find their peak performance and evaluate their relationship with alcohol along with its effects on the human body.
"You've gotta be the person you want to attract" (Tweet this)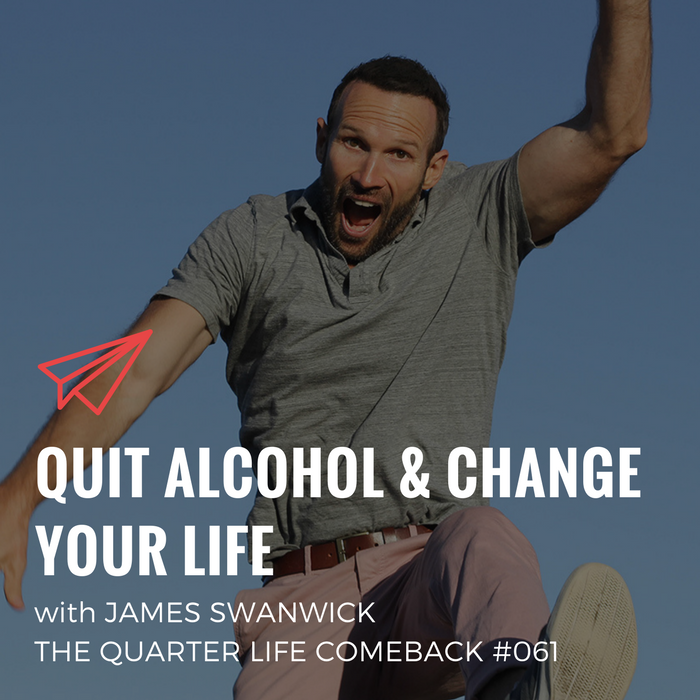 IN THIS EPISODE, YOU WILL LEARN:
How to land your dream job by working for free
Why James decided to quit alcohol for 30 days
The life-changing benefits he's experienced ever since
Should you start by drinking less or quit altogether?
Can you really have fun without alcohol?
Lessons learned from interviewing the world's biggest celebrities
RESOURCES & LINKS MENTIONED IN THIS EPISODE:
Finally, you can hang out with James on the various social media channels below:
Website | Twitter | Facebook | Instagram | YouTube
THANKS FOR LISTENING!
If you enjoyed this episode, shoot me a tweet @BryanTeare and let me know your biggest takeaways. Feel free to share it around with your friends so they can benefit from the podcast as well.
Also, I'd be really grateful if you could leave an honest rating & review for The Quarter Life Comeback on iTunes. They're extremely helpful in terms of the rankings and visibility of the show, and I read each and every one of them personally 🙂
Finally, don't forget to subscribe on iTunes, Stitcher, SoundCloud or TuneIn to receive new episodes as soon as they go live!
Thanks again for joining me on the show, James, and for sharing your story.
P.S. Want to support The Quarter Life Comeback? Now you can by becoming a patron! Click here to learn more.
Intro by Daniella Pellegrini | Music Credit: CharlestheFirst – Letting Go