Note from the host: Ready to create your own quarter life comeback? Get exclusive subscribers-only content and other cool stuff for rocking your journey by [cp_modal id="cp_id_43e62″]clicking here. [/cp_modal]
Today I'm excited to welcome Kyle Louw to The Quarter Life Comeback podcast.
Kyle Louw is a spoken word poet and one of my favorite guys on the planet.
After browsing the web and coming across an inspiring video while at his corporate job, Kyle decided to give slam poetry a try. Little did he know, he'd entered a local competition.
Fast forward to today and Kyle is a full-time poet, competing internationally and even teaching others around the world.
When I initially reached out to Kyle to do an interview, I thought it would be cool to have him perform a unique poem for us, which he did (you can download it for free below). I had no idea it would turn into one of my favorite interviews thus far. Kyle and I got pumped up about a lot of topics that we're both passionate about, such as just getting started, comparing ourselves to others and the power of self-belief.
"Whatever you say, you create" (Tweet this)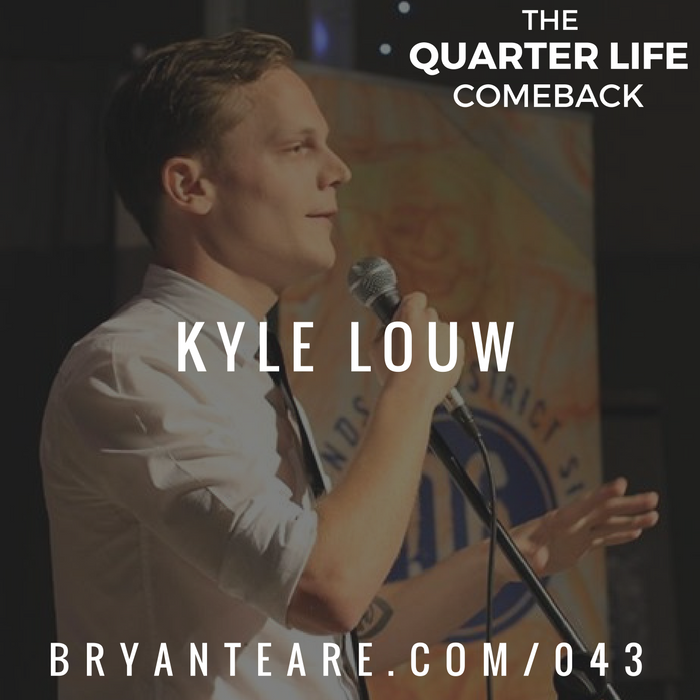 IN THIS EPISODE, YOU WILL LEARN:
How Kyle stumbled into poetry
How to take a more creative path in life
The myth of overnight success and what it really takes to achieve results
Why the language and words we use every day matter (a lot)
How to upgrade your self-talk
18 things to remember for quarter lifers ([cp_modal id="cp_id_4d168″]

a poem by Kyle

)

 

[/cp_modal]
RESOURCES & LINKS MENTIONED IN THIS EPISODE:
Finally, you can hang out with Kyle on the various social media channels below:
THANKS FOR LISTENING!
If you enjoyed this episode, shoot me a tweet @BryanTeare and let me know your biggest takeaways. Feel free to share it around with your friends so they can benefit from the podcast as well.
Also, I'd be really grateful if you could leave an honest rating & review for The Quarter Life Comeback on iTunes. They're extremely helpful in terms of the rankings and visibility of the show, and I read each and every one of them personally 🙂
Finally, don't forget to subscribe on iTunes, Stitcher, SoundCloud or TuneIn to receive new episodes as soon as they go live!
Thanks again for joining me on the show, Kyle, and for sharing your beautiful message and art.
P.S. Want to support The Quarter Life Comeback? Now you can by becoming a patron! Click here to learn more.
Intro by Daniella Pellegrini | Music Credit: CharlestheFirst – Letting Go
READY TO CREATE YOUR COMEBACK?
Sign up below to get even more episodes like this as soon as they go live! You'll also receive exclusive subscribers-only content, news, and updates on products and services via email. Unsubscribe at any time.