WANT TO SUBSCRIBE TO THE PODCAST ON ITUNES? HERE'S HOW…
Thanks for wanting to subscribe to The Quarter Life Comeback on iTunes! By doing so, you'll get each new episode as soon as it's released.
By following the steps below, you can also leave a rating & review, which I'd really appreciate. It helps increase the shows visibility and allows others to benefit from the episodes, too. I'll be reading some of these live on the show in future, so stay tuned and I may throw in a little gift.
Here's how to get started:
STEP 1: HEAD TO BRYANTEARE.COM/ITUNES
Your first step is to head on over to this link. Once you get there, you should see the screen below. All you need to do here is hit the "View in iTunes" button below the channel image.
Again, here's the link to get started: bryanteare.com/itunes.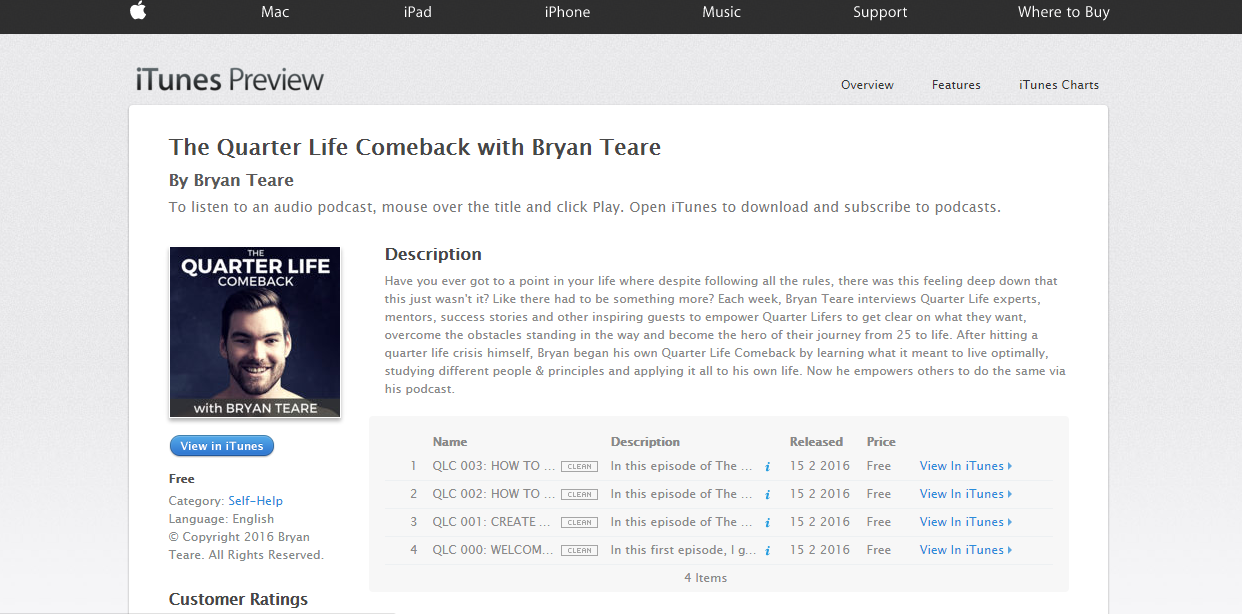 STEP 2: SUBSCRIBE TO THE PODCAST
Once you've hit the "View in iTunes" button, you should be redirected to the show page in your iTunes Store, as seen in the image below.
Once you're here, all you need to do is hit the "Subscribe" button below the artwork/image and you'll be automatically subscribed. To make sure it worked, check in the "My Podcasts" section that the show is there.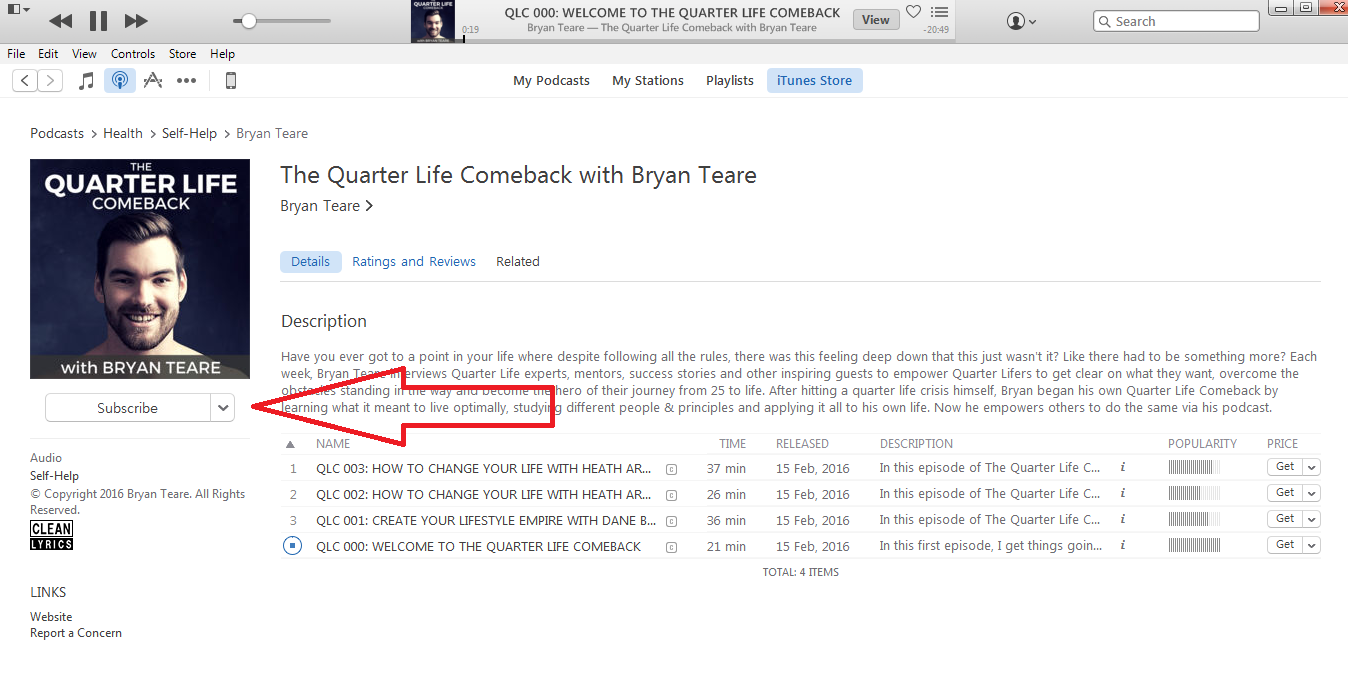 STEP 3: LEAVE A RATING
From this same page, click the "Ratings and Reviews" button (indicated in the image below), which will bring up other listeners' reviews of the podcast. Underneath "Customer Ratings", simply select the star rating you feel the show deserves (cyber hugs for 5-stars).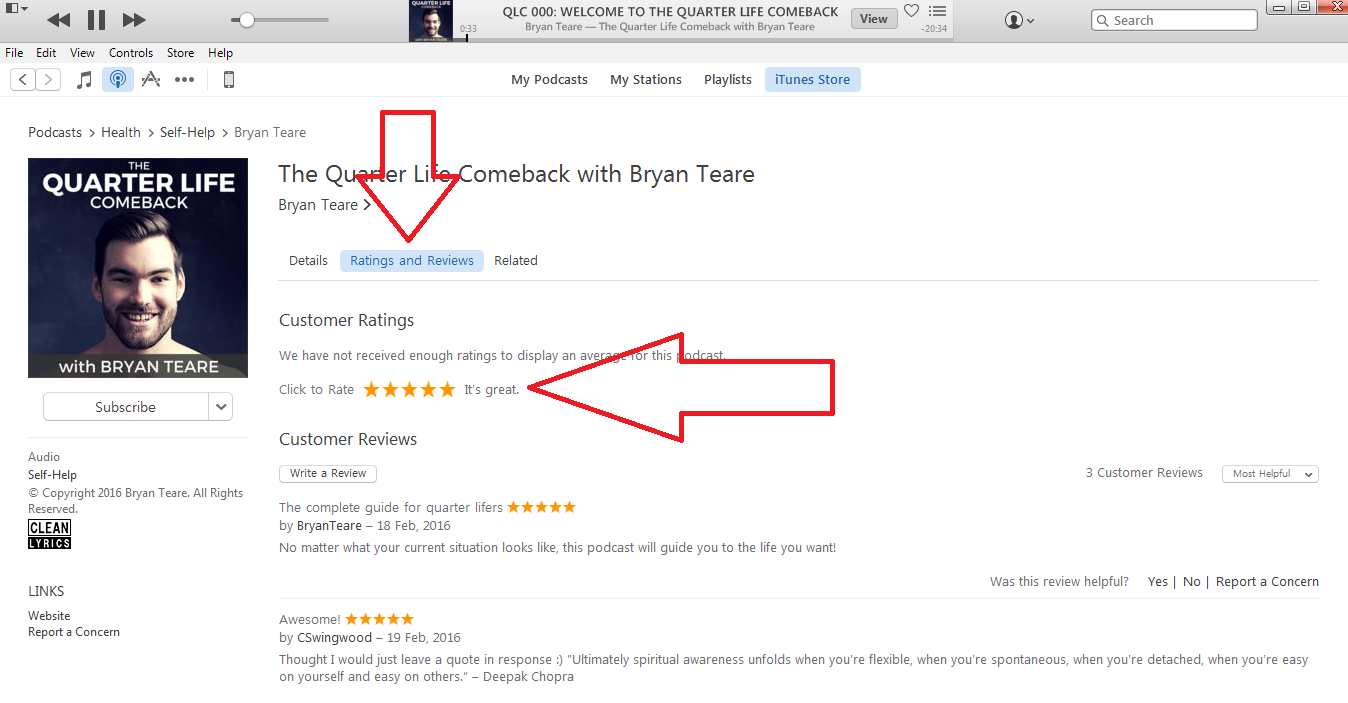 STEP 4: WRITE A REVIEW
Finally, look for the "Write a Review" button just below the ratings section (indicated in image below). Clicking this will open up a window to leave your review of the podcast. I'll be reading some of these in future shows so who knows – you may be featured!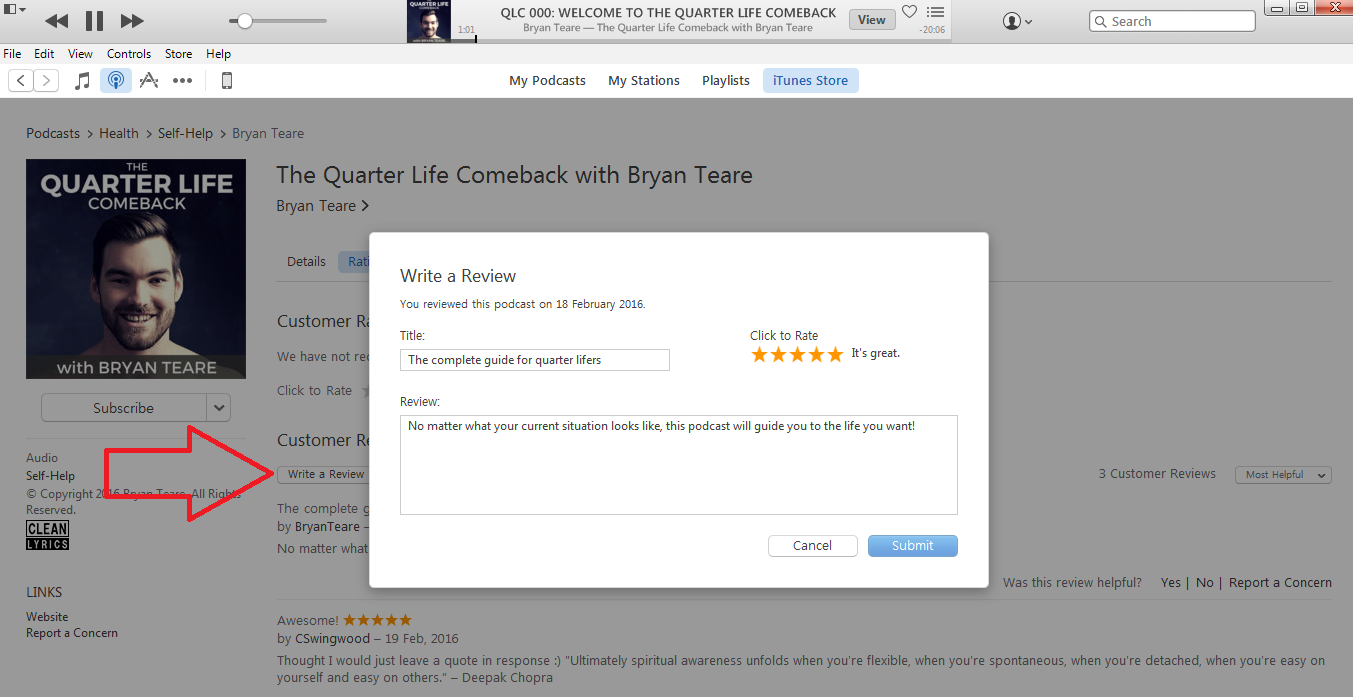 THANK YOU!
And that's it! You've now successfully subscribed, rated and reviewed The Quarter Life Comeback. It goes a long way towards the success of the show and for that I am forever grateful. I promise to keep bringing useful content to your ears.
Again, here's the link to get started if you haven't already: bryanteare.com/itunes.
To browse through the latest episodes, simply go here. And if you like what you hear and want to become a patron of the show, head on over to bryanteare.com/support.