Note from the host: Ready to create your own quarter life comeback? Get exclusive subscribers-only content and other cool stuff for rocking your journey by [cp_modal id="cp_id_43e62″]clicking here. [/cp_modal]
Today I'm excited to welcome Klyn Elsbury to The Quarter Life Comeback podcast.
Klyn Elsbury is an entrepreneur, author and speaker, but her story goes much deeper than that.
Growing up with Cystic Fibrosis, Klyn was given a life expectancy of 14 years. But that didn't stop her from starting her own business. Then, after being forced to quit her career due to numerous hospitalizations, Klyn was confined to a wheelchair with her lung function plummeting below 40%.
After two weeks in hospital, she decided to set off on a six-week road trip across the United States to visit friends and family she wasn't sure she would live to see again.
Klyn then started interviewing successful entrepreneurs and athletes to find out what set them apart from the rest of us. She subsequently turned her findings into a book, where she draws a parallel between what it means to live as if every day is your last and what it means to create a highly impactful legacy.
"Live as if your life depends on it" (Tweet this)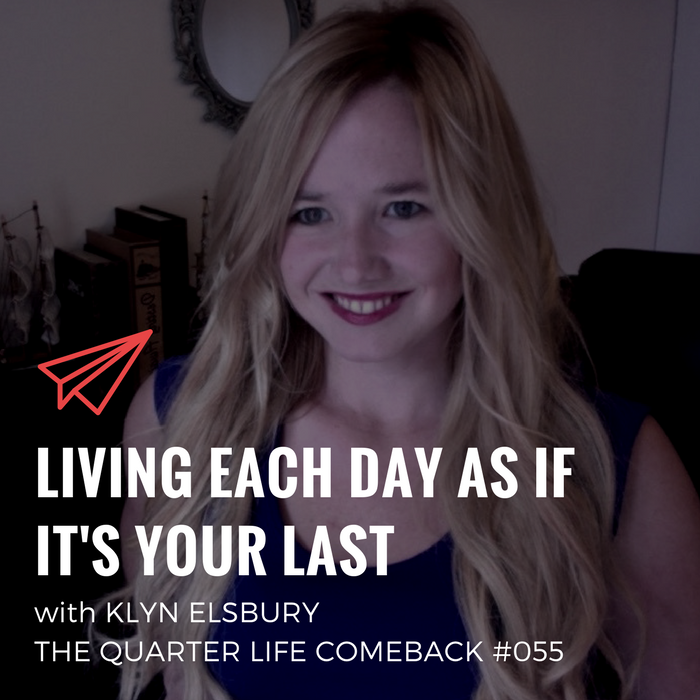 IN THIS EPISODE, YOU WILL LEARN:
What it's REALLY like to live as if each day is your last
How to balance a long-term vision with living in the moment
Klyn's unconventional approach to goal setting
3 important habits to adopt in your twenties
How to know when it's time to quit a goal
Klyn's definition of success
RESOURCES & LINKS MENTIONED IN THIS EPISODE:
Finally, you can hang out with Klyn on the various social media channels below:
THANKS FOR LISTENING!
If you enjoyed this episode, shoot me a tweet @BryanTeare and let me know your biggest takeaways. Feel free to share it around with your friends so they can benefit from the podcast as well.
Also, I'd be really grateful if you could leave an honest rating & review for The Quarter Life Comeback on iTunes. They're extremely helpful in terms of the rankings and visibility of the show, and I read each and every one of them personally 🙂
Finally, don't forget to subscribe on iTunes, Stitcher, SoundCloud or TuneIn to receive new episodes as soon as they go live!
Thanks again for joining me on the show, Klyn, and for sharing your story.
P.S. Want to support The Quarter Life Comeback? Now you can by becoming a patron! Click here to learn more.
Intro by Daniella Pellegrini | Music Credit: CharlestheFirst – Letting Go
READY TO CREATE YOUR COMEBACK?
Sign up below to get even more episodes like this as soon as they go live! You'll also receive exclusive subscribers-only content, news, and updates on products and services via email. Unsubscribe at any time.