Today I'm excited to welcome Jacob Sokol to The Quarter Life Comeback podcast.
Jacob Sokol is a coach who helps guys and girls in their twenties and thirties figure out WTF to do with their lives.
He's also one of my biggest role models and the guy who got me into coaching in the first place.
After hitting all the success markers of society at a young age, Jacob proved to himself that he could play the game we're told to play. But none of that really made sense to him. He decided to embark on a solo travel adventure through Europe and started creating a life which felt more authentic to who he was.
I've been wanting to get Jacob on the show for a while and I'm excited to finally be sharing his wisdom with you. Jacob provides a powerful exercise for getting out of our comfort zones, and also discusses some tips for making the most of our twenties.
Alright, let's go hang out with Jacob…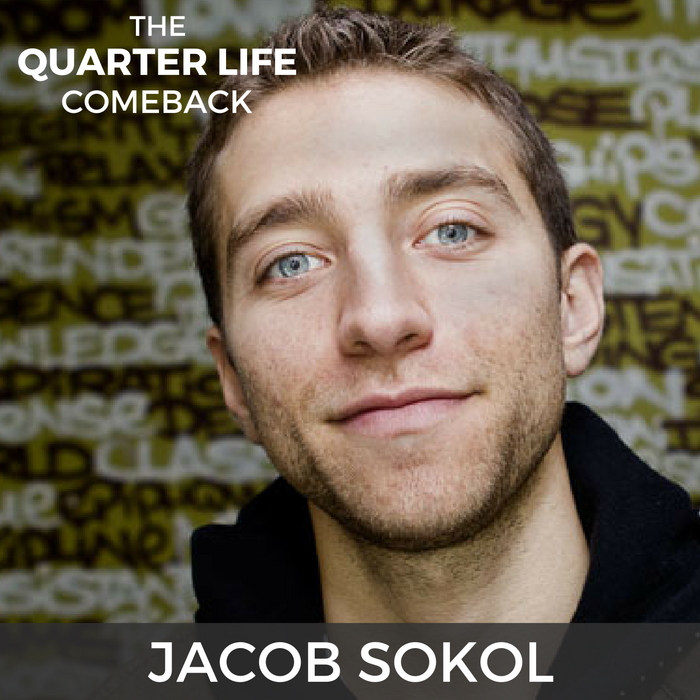 "Our life is a reflection of the questions we ask ourself" (Tweet this)
IN THIS EPISODE, YOU WILL LEARN:
How to distinguish between wanting more and being ungrateful
Why you don't ACTUALLY want to travel (and what it is you DO want)
Why the answers you're looking for aren't in your head
How to live with more authenticity (plus a challenge from Jacob)
How to make the best use of your twenties
RESOURCES & LINKS MENTIONED IN THIS EPISODE:
Finally, you can hang out with Jacob on the various social media channels below:
Website | Email | Twitter | Facebook
THANKS FOR LISTENING!
If you enjoyed this episode, shoot me a tweet @BryanTeare and let me know your biggest takeaways. Feel free to share it around with your friends so they can benefit from the podcast as well.
Also, I'd be really grateful if you could leave an honest rating & review for The Quarter Life Comeback on iTunes. They're extremely helpful in terms of the rankings and visibility of the show, and I read each and every one of them personally 🙂
Finally, don't forget to subscribe on iTunes, Stitcher or TuneIn to receive new episodes as soon as they go live!
Thanks again for joining me on the show, Jacob, and for sharing your wisdom.
P.S. Want to support The Quarter Life Comeback? Now you can by becoming a patron! Click here to learn more.
Intro by Daniella Pellegrini | Music Credit: CharlestheFirst – Letting Go
READY TO CREATE YOUR COMEBACK?
Sign up below to get even more episodes like this as soon as they go live! You'll also receive exclusive subscribers-only content, news, and updates on products and services via email. Unsubscribe at any time.