Today I'm excited to welcome Zach Horvath to The Quarter Life Comeback podcast.
Zach Horvath is the founder of Live a Great Story, a brand building a community of people focused on spreading inspiration and doing what we do best, better.
Zach's inspiration for LIVE started with a one way, open ended trip to Europe that ended up being 7 months. During that time he met some amazing people from around the world of all backgrounds, ages, sexes, views and directions. He realized that we're all just trying to figure out our own path, despite our differences, focuses, languages and everything else that makes us different.
After returning from this trip, Zach was struggling with finding a creative, marketing/branding job and spray painted a big LIVE A GREAT STORY on a wall in San Diego. It took off on Instagram with #liveagreatstory and has since evolved into what it is today.
With a focus on media and sharing stories of people or brands who are making a difference, LIVE also has an awesome 'Reminder' product section, consisting of stickers, badges, mugs, shirts and more. To date they've distributed 30,000+ stickers, 10,000+ buttons and reached hundreds of thousands of people across the world.
Zach was also kind enough to offer 25% off to all listeners of The Quarter Life Comeback. Simply use the coupon code QLC when checking out.
Alright, let's go hang out with Zach…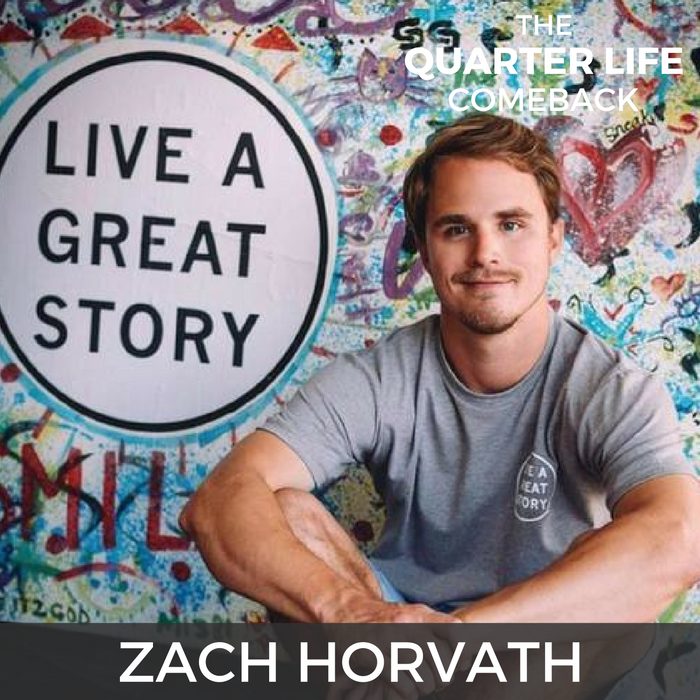 "Just start and see what happens" (Tweet this)
IN THIS EPISODE, YOU WILL LEARN:
Why you don't need to learn more before making a difference
Why Zach decided to stop traveling
How to figure out your mission (when personality tests don't help)
When to quit or when to keep pushing an idea
Tips for starting your own social movement
3 ways to live a great story
RESOURCES & LINKS MENTIONED IN THIS EPISODE:
Finally, you can hang out with Zach on the various social media channels below:
Website | Email | Twitter | Facebook | Instagram | YouTube
THANKS FOR LISTENING!
If you enjoyed this episode, shoot me a tweet @BryanTeare and let me know your biggest takeaways. Feel free to share it around with your friends so they can benefit from the podcast as well.
Also, I'd be really grateful if you could leave an honest rating & review for The Quarter Life Comeback on iTunes. They're extremely helpful in terms of the rankings and visibility of the show, and I read each and every one of them personally 🙂
Finally, don't forget to subscribe on iTunes, Stitcher or TuneIn to receive new episodes as soon as they go live!
Thanks again for joining me on the show, Zach, and for sharing your story.
P.S. Want to support The Quarter Life Comeback? Now you can by becoming a patron! Click here to learn more.
Intro by Daniella Pellegrini | Music Credit: CharlestheFirst – Letting Go
READY TO CREATE YOUR COMEBACK?
Sign up below to get even more episodes like this as soon as they go live! You'll also receive exclusive subscribers-only content, news, and updates on products and services via email. Unsubscribe at any time.