Today I'm excited to welcome Jan Broders to The Quarter Life Comeback.
At 27 years old, Jan was on a mission to become the next big hotel manager. He lived in several different countries, working hard to build up his CV as part of an elite high potential program.
Until one morning, Jan collapsed in the hotel lobby.
Knowing things needed to change, he began the recovery process, experimenting with various techniques and methods including meditation and yoga. Today, Jan draws on his experience to offer his own method of helping clients create the life and business of their dreams.
"Either I die or something has to change" (Tweet this)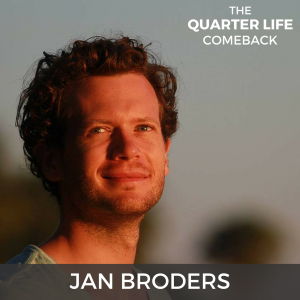 IN THIS EPISODE, YOU WILL LEARN:
The danger of wanting to be "successful"
Signs your work is harming you
How Jan's job landed him in the ambulance
How to tell when things need to change
Steps to prevent burnout
RESOURCES & LINKS MENTIONED IN THIS EPISODE:
Finally, you can hang out with Jan on the various social media channels below:
Website | Twitter | Facebook | YouTube | Instagram
THANKS FOR LISTENING!
If you enjoyed this episode, shoot me a tweet @bryanteare and let me know your biggest takeaways. Feel free to share it around with your friends so they can benefit from the podcast as well.
Also, I'd be really grateful if you could leave an honest rating & review for The Quarter Life Comeback on iTunes. They're extremely helpful in terms of the rankings and visibility of the show, and I read each and every one of them personally 🙂
Finally, don't forget to subscribe on iTunes or Stitcher to receive new episodes as soon as they go live!
Thanks again for joining me on the show, Jan, and for sharing your story.
P.S. Want to support The Quarter Life Comeback? Now you can by becoming a patron! Click here to learn more.
Intro by Daniella Pellegrini | Music Credit: CharlestheFirst – Letting Go
READY TO CREATE YOUR COMEBACK?
Sign up below to get even more episodes like this as soon as they go live! You'll also receive exclusive subscribers-only content, news, and updates on products and services via email. Unsubscribe at any time.