Note from the host: Ready to create your own quarter life comeback? Get exclusive subscribers-only content and other cool stuff for rocking your journey by [cp_modal id="cp_id_43e62″]clicking here. [/cp_modal]
Today I'm excited to welcome Diana Fitts to The Quarter Life Comeback.
Alright, so check it out. Have you ever had this moment where you suddenly realized all the goals and dreams you once set for yourself might not be achieved? Scary thought, right?
That's what happened to today's guest, Diana. Having always wanted to be a writer, Diana realized that at 25, she had still not taken any action towards her dream. That's when she decided to change things up for herself.
Now with two books to her name, Diana helps others in their twenties balance their commitments, stay focused on the task at hand and set & achieve their goals.
"I can reshape the idea of crisis into something really meaningful in my life" (Tweet this)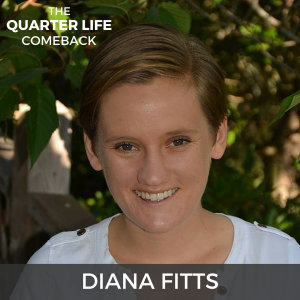 IN THIS EPISODE, YOU WILL LEARN:
Where to draw the line between wanting more and feeling ungrateful for what we have
How to balance a ton of commitments
The"light at the end of the tunnel strategy" for beating procrastination
How to design an environment that allows you to focus
3 common mistakes people make when trying to focus on a task
How to deal with the "what now" feeling after achieving your goals
RESOURCES & LINKS MENTIONED IN THIS EPISODE:
Finally, you can hang out with Diana on the various social media channels below:
Website | Twitter | Facebook | Amazon
THANKS FOR LISTENING!
If you enjoyed this episode, shoot me a tweet @bryanteare and let me know your biggest takeaways. Feel free to share it around with your friends so they can benefit from the podcast as well.
Also, I'd be really grateful if you could leave an honest rating & review for The Quarter Life Comeback on iTunes. They're extremely helpful in terms of the rankings and visibility of the show, and I read each and every one of them personally 🙂
Finally, don't forget to subscribe on iTunes or Stitcher to receive new episodes as soon as they go live!
Thanks again for joining me on the show, Diana, and for sharing your expertise.
P.S. Want to support The Quarter Life Comeback? Now you can by becoming a patron! Click here to learn more.
Intro by Daniella Pellegrini | Music Credit: CharlestheFirst – Letting Go
READY TO CREATE YOUR COMEBACK?
Sign up below to get even more episodes like this as soon as they go live! You'll also receive exclusive subscribers-only content, news, and updates on products and services via email. Unsubscribe at any time.