Today I'm excited to welcome Braam Malherbe to The Quarter Life Comeback podcast.
Braam Malherbe is an extreme adventure, environmentalist and motivational speaker who has dedicated his life to saving the planet.
But Braam didn't always have such a strong sense of purpose in his life.
After watching his Dad's life fall apart, Braam became determined not to let the same happen to him. Yet after making a lot of money and "having it all" at a young age, the same started to happen to Braam. He decided to take himself to the mountains to take his own life.
However, after a unique experience on his 'final' night, Braam decided to turn things around and devoted the rest of his life to saving the planet, one extreme adventure at a time.
Braam is one of my personal mentors and his story is nothing short of inspiring. I was fortunate enough to be his backstage assistant when he delivered his TEDx talk, which you can find below.
Alright, let's go hang out with Braam…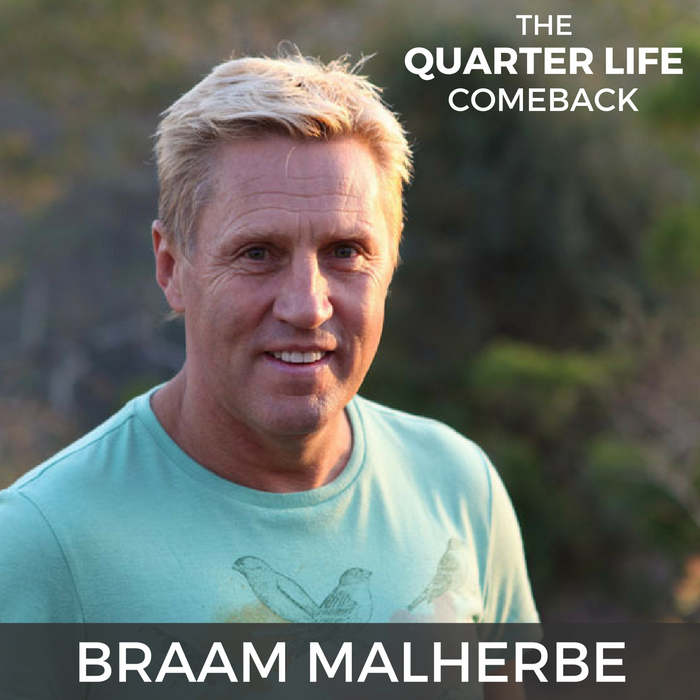 "What you believe for long enough becomes your reality" (Tweet this)
IN THIS EPISODE, YOU WILL LEARN:
How Braam went from "having it all" to having nothing
The strange event that stopped Braam from taking his own life
How to find your unique skills and talents
The difference between goals and a purpose
How to deal with naysayers who tell you it's impossible
Braam's next big adventure to save the planet
RESOURCES & LINKS MENTIONED IN THIS EPISODE:
Finally, you can hang out with Braam on the various social media channels below:
Website | Twitter | Facebook | Instagram | YouTube
THANKS FOR LISTENING!
If you enjoyed this episode, shoot me a tweet @BryanTeare and let me know your biggest takeaways. Feel free to share it around with your friends so they can benefit from the podcast as well.
Also, I'd be really grateful if you could leave an honest rating & review for The Quarter Life Comeback on iTunes. They're extremely helpful in terms of the rankings and visibility of the show, and I read each and every one of them personally 🙂
Finally, don't forget to subscribe on iTunes, Stitcher, SoundCloud or TuneIn to receive new episodes as soon as they go live!
Thanks again for joining me on the show, Braam, and for sharing your story.
P.S. Want to support The Quarter Life Comeback? Now you can by becoming a patron! Click here to learn more.
Intro by Daniella Pellegrini | Music Credit: CharlestheFirst – Letting Go
ud6pj8rc
READY TO CREATE YOUR COMEBACK?
Sign up below to get even more episodes like this as soon as they go live! You'll also receive exclusive subscribers-only content, news, and updates on products and services via email. Unsubscribe at any time.