Note from the host: Ready to create your own quarter life comeback? Get exclusive subscribers-only content and other cool stuff for rocking your journey by [cp_modal id="cp_id_43e62″]clicking here. [/cp_modal]
Today I'm excited to welcome Lou Redmond to The Quarter Life Comeback podcast.
Lou Redmond is a speaker, author and meditation teacher who's quickly become one of my new close friends online.
At 6 years old, Lou felt deeply that he was meant to live the life of his dreams. However, as he grew up, those dreams were put aside and societal norms took over as he found himself working to fit in with the crowd and take the common corporate road to the "American Dream."
Unfulfilled by work, Lou turned to drugs and alcohol. After 2 years of the "living for the weekend" mentality, Lou found himself in a meeting with a group of successful entrepreneurs that would change things forever.
From that point on, Lou began changing his life one positive decision at a time. He got into personal development, started reading books, meditating, exploring his passions and seeking new situations that pushed his comfort zone.
Lou decided to write a book about his whole experience, which we get into in the interview. I know you're going to dig this one!
"Follow your excitement and see where it leads you" (Tweet this)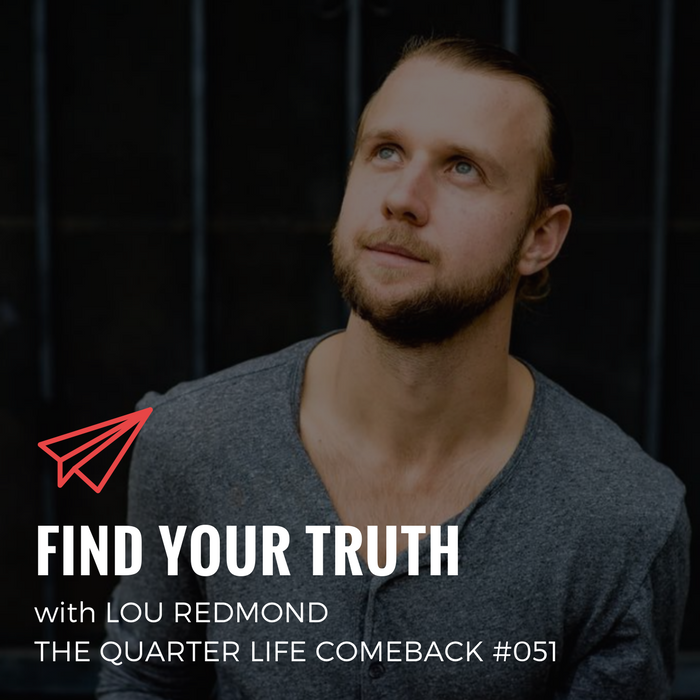 IN THIS EPISODE, YOU WILL LEARN:
How Lou reached his personal turning point

Why we go through our twenties on auto-pilot

The keystone habit that transformed Lou's life

The benefits of meditation (and how to get started)

The difference between bettering ourselves and being enough already

Lou's opinion on "following your passion"
RESOURCES & LINKS MENTIONED IN THIS EPISODE:
Finally, you can hang out with Lou on the various social media channels below:
Website | Twitter | Facebook | Instagram
THANKS FOR LISTENING!
If you enjoyed this episode, shoot me a tweet @BryanTeare and let me know your biggest takeaways. Feel free to share it around with your friends so they can benefit from the podcast as well.
Also, I'd be really grateful if you could leave an honest rating & review for The Quarter Life Comeback on iTunes. They're extremely helpful in terms of the rankings and visibility of the show, and I read each and every one of them personally 🙂
Finally, don't forget to subscribe on iTunes, Stitcher, SoundCloud or TuneIn to receive new episodes as soon as they go live!
Thanks again for joining me on the show, Lou, and for sharing your story.
P.S. Want to support The Quarter Life Comeback? Now you can by becoming a patron! Click here to learn more.
Intro by Daniella Pellegrini | Music Credit: CharlestheFirst – Letting Go
READY TO CREATE YOUR COMEBACK?
Sign up below to get even more episodes like this as soon as they go live! You'll also receive exclusive subscribers-only content, news, and updates on products and services via email. Unsubscribe at any time.