Today I'm excited to welcome Charlie Brenneman to The Quarter Life Comeback podcast.
Charlie Brenneman is one inspiring guy. Having grown up doing wrestling through school, Charlie decided that his gift to the world was to become a Spanish teacher.
However, one day out of the blue, Charlie had a voice in his head telling him he wanted to become a fighter. This kickstarted a successful MMA career which saw Charlie reaching as high as 7th in the world.
Fast forward to today, and Charlie now uses the skills, strategies and mindset he learned as a fighter to help others smash their self doubt, overcome their fears and achieve their goals.
If you've started to feel like you're settling in your comfort zone and setting yourself up for future regrets in your life, this episode is for you.
Alright, let's go hang out with Charlie…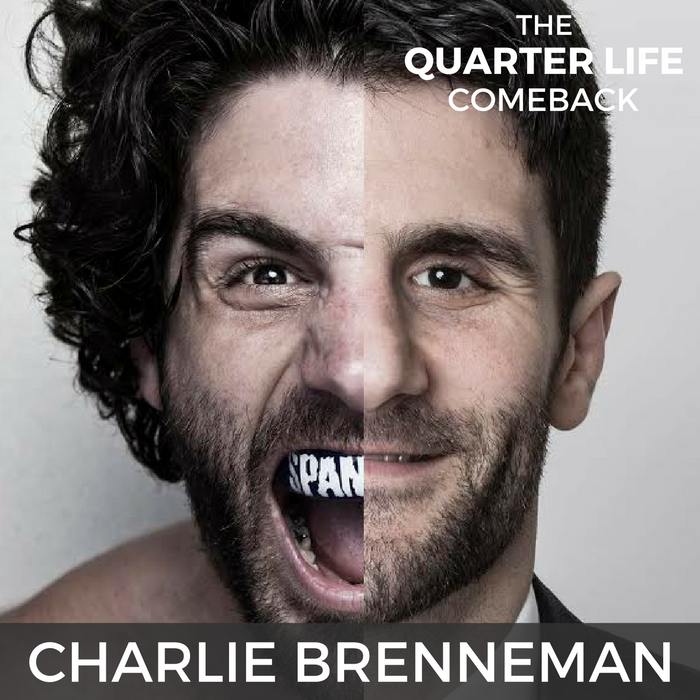 "Getting started is the hardest part" (Tweet this)
IN THIS EPISODE, YOU WILL LEARN:
How Charlie went from Spanish teacher to UFC fighter
Why we settle so easily in life
How to start working towards a big goal
The interesting pre-fight voices in a fighter's mind
Why your goals are the least important part of the process
One strategy to implement in your life to be great
RESOURCES & LINKS MENTIONED IN THIS EPISODE:
Finally, you can hang out with Charlie on the various social media channels below:
Website | Twitter | Facebook | Instagram| YouTube
THANKS FOR LISTENING!
If you enjoyed this episode, shoot me a tweet @BryanTeare and let me know your biggest takeaways. Feel free to share it around with your friends so they can benefit from the podcast as well.
Also, I'd be really grateful if you could leave an honest rating & review for The Quarter Life Comeback on iTunes. They're extremely helpful in terms of the rankings and visibility of the show, and I read each and every one of them personally 🙂
Finally, don't forget to subscribe on iTunes, Stitcher or TuneIn to receive new episodes as soon as they go live!
Thanks again for joining me on the show, Charlie, and for sharing your story.
P.S. Want to support The Quarter Life Comeback? Now you can by becoming a patron! Click here to learn more.
Intro by Daniella Pellegrini | Music Credit: CharlestheFirst – Letting Go
READY TO CREATE YOUR COMEBACK?
Sign up below to get even more episodes like this as soon as they go live! You'll also receive exclusive subscribers-only content, news, and updates on products and services via email. Unsubscribe at any time.