Today I'm excited to welcome Matt Kohn to The Quarter Life Comeback podcast.
Matt Kohn is the founder of Different Hunger, a blog where he shares awesome content based on a project which asked the world's most successful people: "What advice would you give your twenty-something self?"
Matt started his career in the conventional way, but soon realized that it wouldn't give him the freedom he wanted to create in his life. He quit, packed his bags and headed to Columbia for 3 months, where he focused on building his blog. He's since returned home, but now runs his blog and a freelancing web design side gig.
While going through the answers he received from over 75 of the world's leading influencers, Matt noticed several themes that ran through all of their successes, which we cover in this interview.
Alright, let's go hang out with Matt…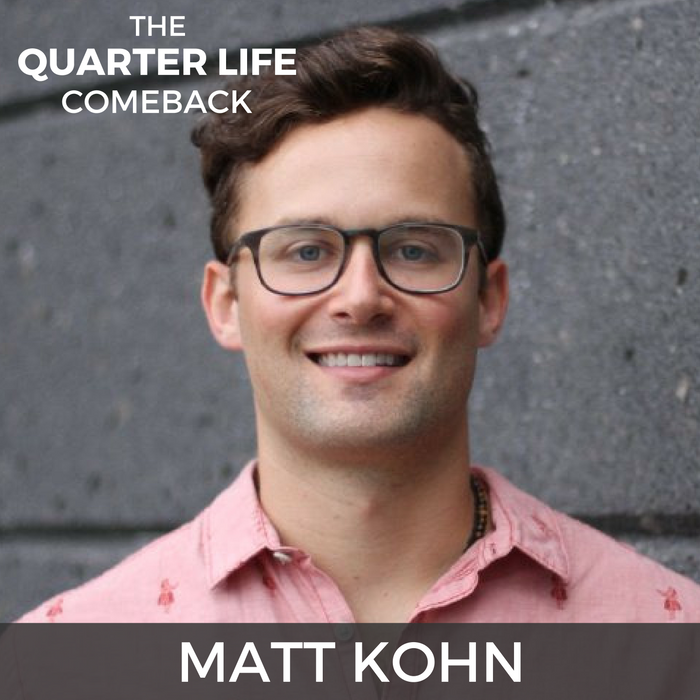 "Top performers take action before they're ready" (Tweet this)
IN THIS EPISODE, YOU WILL LEARN:
Why picking a date for a goal is super powerful
The importance of surrounding yourself with the right people
Why you just need to start taking action
The key principles that all successful people share
Why reaching your goals won't make you happy
RESOURCES & LINKS MENTIONED IN THIS EPISODE:
Finally, you can hang out with Matt on the various social media channels below:
Website | Facebook | Twitter | Instagram | YouTube
THANKS FOR LISTENING!
If you enjoyed this episode, shoot me a tweet @BryanTeare and let me know your biggest takeaways. Feel free to share it around with your friends so they can benefit from the podcast as well.
Also, I'd be really grateful if you could leave an honest rating & review for The Quarter Life Comeback on iTunes. They're extremely helpful in terms of the rankings and visibility of the show, and I read each and every one of them personally 🙂
Finally, don't forget to subscribe on iTunes, Stitcher or TuneIn to receive new episodes as soon as they go live!
Thanks again for joining me on the show, Matt, and for sharing your story.
P.S. Want to support The Quarter Life Comeback? Now you can by becoming a patron! Click here to learn more.
Intro by Daniella Pellegrini | Music Credit: CharlestheFirst – Letting Go
READY TO CREATE YOUR COMEBACK?
Sign up below to get even more episodes like this as soon as they go live! You'll also receive exclusive subscribers-only content, news, and updates on products and services via email. Unsubscribe at any time.