Today I'm excited to welcome Doug Stewart to The Quarter Life Comeback podcast.
Doug Stewart has a super inspiring story. At a young age, Doug was diagnosed with sleep apnea, ADD, dyslexia, narcolepsy and a whole host of other conditions. He was told that basically, he was stupid.
In fact, Doug couldn't write the alphabet at age 11 and pushed through all of school. However, thanks to his height and athleticism, he made his way into college where he met an academic advisor who refused to let him fail.
Doug is now a TEDx speaker, writer, facilitator, trainer and expert on mentorship. Plus, he's also 6'7″ with good hair and a better beard (we're basically twinning it in this episode).
Alright, let's go hang out with Doug…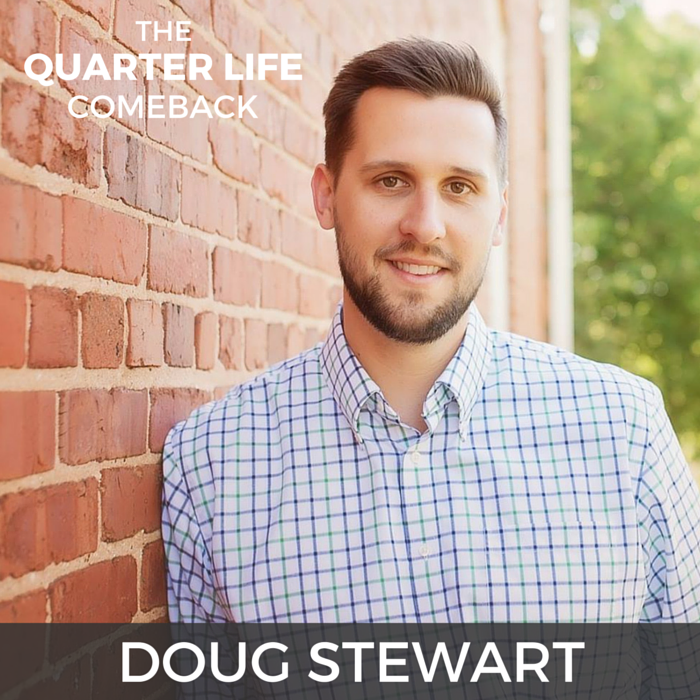 "You don't have to choose right now" (Tweet this)
IN THIS EPISODE, YOU WILL LEARN:
Why Doug was still coloring in and drawing his twenties
What is a victim mindset and how to break free from it
Why the current mentorship model is outdated
Who are the 5 1/2 mentors you need and where to find them (hint: they're closer than you think)
Why experience is for fools
RESOURCES & LINKS MENTIONED IN THIS EPISODE:
Finally, you can hang out with Doug on the various social media channels below:
Website | Facebook | Twitter | LinkedIn
THANKS FOR LISTENING!
If you enjoyed this episode, shoot me a tweet @BryanTeare and let me know your biggest takeaways. Feel free to share it around with your friends so they can benefit from the podcast as well.
Also, I'd be really grateful if you could leave an honest rating & review for The Quarter Life Comeback on iTunes. They're extremely helpful in terms of the rankings and visibility of the show, and I read each and every one of them personally 🙂
Finally, don't forget to subscribe on iTunes, Stitcher or TuneIn to receive new episodes as soon as they go live!
Thanks again for joining me on the show, Doug, and for sharing your story.
P.S. Want to support The Quarter Life Comeback? Now you can by becoming a patron! Click here to learn more.
Intro by Daniella Pellegrini | Music Credit: CharlestheFirst – Letting Go
READY TO CREATE YOUR COMEBACK?
Sign up below to get even more episodes like this as soon as they go live! You'll also receive exclusive subscribers-only content, news, and updates on products and services via email. Unsubscribe at any time.