Note from the host: Ready to create your own quarter life comeback? Get exclusive subscribers-only content and other cool stuff for rocking your journey by [cp_modal id="cp_id_43e62″]clicking here. [/cp_modal]
Today I'm excited to welcome Matt D'Avella to The Quarter Life Comeback podcast.
Matt D'Avella is an award-winning documentary filmmaker & commercial director whose work has been viewed by sold-out crowds around the world, from the London Palladium to the Castro Theatre in San Francisco.
After graduating college in 2010 with $95,000 in student loan debt, Matt did the smartest thing he could think of at the time: bought a brand new car. That plummeted him even further into debt at $115 000.
Back then he was living in his parents' basement in New Jersey while trying to make it as a filmmaker. Unhappy with where his life was going, Matt became obsessed with turning things around. He read every self-help book he could find, discovered minimalism, redefined his idea of success, grew his business, and within five years had paid off every last loan. Even the new car.
Then in 2016, Matt completed a lifelong dream to direct his first feature-length documentary Minimalism. From there, things turned around.
Matt is passionate about helping creatives get un-stuck. Trying to create something from the ground up can be incredibly daunting, especially when you're doing it alone, and he aims to help you create the life you want, love the work you do & make a big impact along the way.
"It always starts with awareness and asking questions" (Tweet this)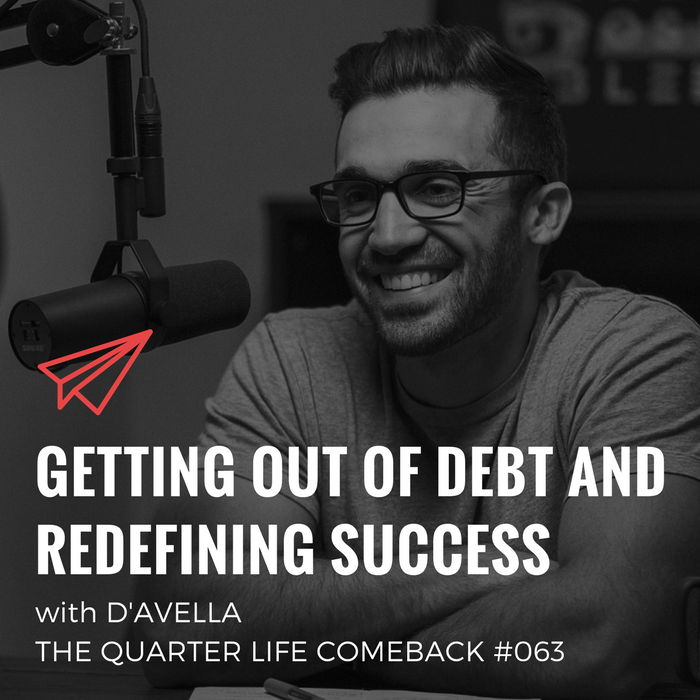 IN THIS EPISODE, YOU WILL LEARN:
How Matt paid off $115 000 of debt physically AND mentally
Is it ever a good idea to get into debt?
The 4 buckets of Matt's redefined idea of success
Can you achieve major highs without experiencing lows?
How to overcome self-doubt and get unstuck
How to deal with naysayers while pursuing a different path
RESOURCES & LINKS MENTIONED IN THIS EPISODE:
Finally, you can hang out with Matt on the various social media channels below:
Website | Twitter | Facebook | Instagram | YouTube
THANKS FOR LISTENING!
If you enjoyed this episode, shoot me a tweet @BryanTeare and let me know your biggest takeaways. Feel free to share it around with your friends so they can benefit from the podcast as well.
Also, I'd be really grateful if you could leave an honest rating & review for The Quarter Life Comeback on iTunes. They're extremely helpful in terms of the rankings and visibility of the show, and I read each and every one of them personally 🙂
Finally, don't forget to subscribe on iTunes, Stitcher, SoundCloud or TuneIn to receive new episodes as soon as they go live!
Thanks again for joining me on the show, Matt, and for sharing your story.
P.S. Want to support The Quarter Life Comeback? Now you can by becoming a patron! Click here to learn more.
Intro by Daniella Pellegrini | Music Credit: CharlestheFirst – Letting Go
READY TO CREATE YOUR COMEBACK?
Sign up below to get even more episodes like this as soon as they go live! You'll also receive exclusive subscribers-only content, news, and updates on products and services via email. Unsubscribe at any time.