Note from the host: Ready to create your own quarter life comeback? Get exclusive subscribers-only content and other cool stuff for rocking your journey by [cp_modal id="cp_id_43e62″]clicking here. [/cp_modal]
Today I'm excited to welcome Joseph Wilner to The Quarter Life Comeback podcast.
Joseph Wilner is psychotherapist and coach who decided to chase his childhood dream by becoming a professional drummer at 30 years old.
Joseph had always made practical career decisions before. He attended graduate school to become a psychotherapist and was building a private practice doing therapy and life-coaching.
He'd started working with clients who wanted to follow their dreams and do more meaningful work. And although he really enjoyed what he did, he still didn't feel fulfilled.
After numerous conversations with clients about what they would do if they could do anything, and what they would do if they knew they couldn't fail, Joseph was confronted with the realization that he hadn't truly answered these questions himself.
And so, at the age of 30, Joseph took a leap and followed a lifelong dream of being a professional drummer.
Joseph is now committed to helping other people chase their dreams and uncover their life's work through his company You Have a Calling.
"Fulfilment and wellbeing is an inside job" (Tweet this)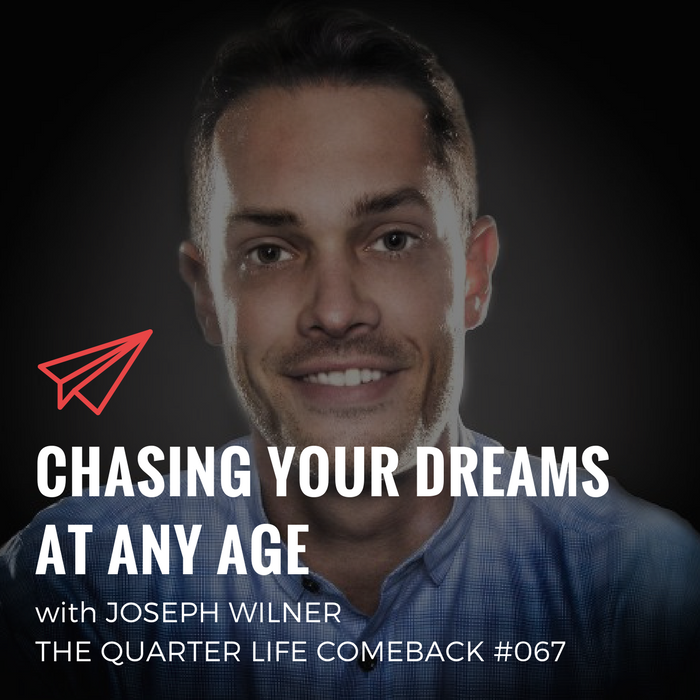 IN THIS EPISODE, YOU WILL LEARN:
How Joe switched from therapist to drummer (at 30 years old)
How to tell if you're on the right path
How to deal with uncertainty and self-doubt
Why it's super important to define success for yourself
The more important thing than following your passion
How to find a mission you really care about
RESOURCES & LINKS MENTIONED IN THIS EPISODE:
Finally, you can hang out with Joseph on the various social media channels below:
Website | Twitter | Facebook | Instagram
THANKS FOR LISTENING!
If you enjoyed this episode, shoot me a tweet @BryanTeare and let me know your biggest takeaways. Feel free to share it around with your friends so they can benefit from the podcast as well.
Also, I'd be really grateful if you could leave an honest rating & review for The Quarter Life Comeback on iTunes. They're extremely helpful in terms of the rankings and visibility of the show, and I read each and every one of them personally 🙂
Finally, don't forget to subscribe on iTunes, Stitcher, SoundCloud or TuneIn to receive new episodes as soon as they go live!
Thanks again for joining me on the show, Joseph, and for sharing your story.
P.S. Want to support The Quarter Life Comeback? Now you can by becoming a patron! Click here to learn more.
Intro by Daniella Pellegrini | Music Credit: CharlestheFirst – Letting Go
READY TO CREATE YOUR COMEBACK?
Sign up below to get even more episodes like this as soon as they go live! You'll also receive exclusive subscribers-only content, news, and updates on products and services via email. Unsubscribe at any time.