Note from the host: Ready to create your own quarter life comeback? Get exclusive subscribers-only content and other cool stuff for rocking your journey by [cp_modal id="cp_id_43e62″]clicking here. [/cp_modal]
Today we welcome Heath Armstrong to The Quarter Life Comeback.
I met Heath via a mutual friend who said I absolutely HAD to meet Heath after mentioning my desire to start this podcast. I now happily consider him a friend and mentor.
Just a few years ago, Heath was struggling with alcohol addiction and didn't really feel like he had any purpose or meaning in his life. Things were pretty rough to say the least.
However, today Heath runs several entrepreneurial ventures, including writing a book on creating your best life. In fact, when we spoke, he was about to quit his job!
This is a super powerful episode and we get into some really great stuff in the interview. As a result, we went a little longer than usual, so I decided to split it into two parts. You can find a link to part 2 below.
"You can do stuff for less money and still be happy." (Tweet this)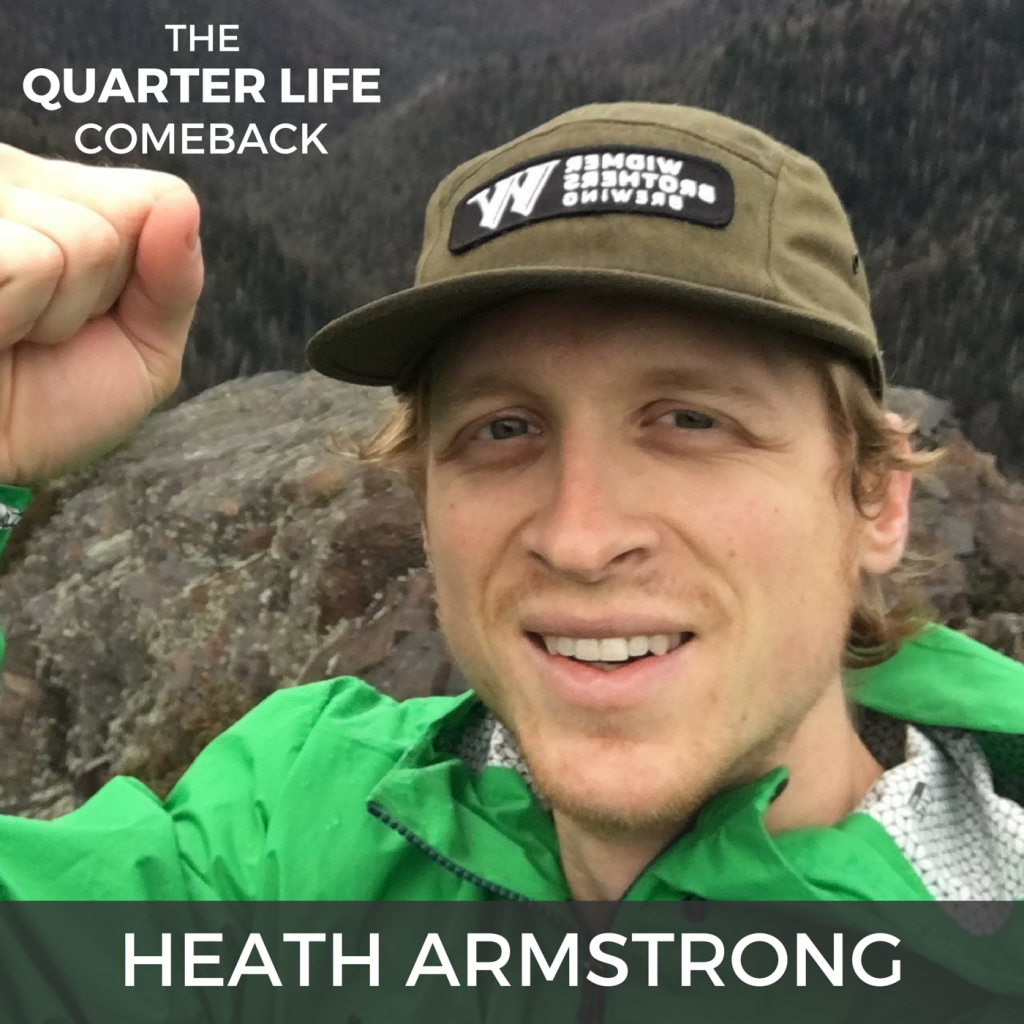 IN THIS EPISODE, YOU WILL LEARN:
How to get more done each day
The one thing all successful people do
Heath's scary wake-up call
What he writes down every night
How to build up a side business while stuck in a full time job
How he eliminated all his debt
RESOURCES & LINKS MENTIONED IN THIS EPISODE:
Make sure you catch to part 2 where we get into Heath's morning routine, daily habits and much more!
Finally, you can hang out with Heath on the various social media channels below (after his social sabbatical!):
THANKS FOR LISTENING!
If you enjoyed this episode, shoot me a tweet @bryanteare and let me know your biggest takeaways. Feel free to share it around with your friends so they can benefit from the podcast as well.
Also, I'd be really grateful if you could leave an honest rating & review for The Quarter Life Comeback on iTunes. They're extremely helpful in terms of the rankings and visibility of the show, and I read each and every one of them personally 🙂
Finally, don't forget to subscribe on iTunes or Stitcher to receive new episodes as soon as they go live!
Thanks again for joining me on the show, Heath!
P.S. Want to support the show? Now you can become a Quarter Life Comeback patron! Click here to learn more.
Music Credit: CharlestheFirst – Letting Go