Note from the host: Ready to create your own quarter life comeback? Get exclusive subscribers-only content and other cool stuff for rocking your journey by [cp_modal id="cp_id_43e62″]clicking here. [/cp_modal]
Today I'm excited to welcome Jared Kleinert to The Quarter Life Comeback podcast.
Jared Kleinert is the co-author of 2 Billion Under 20, a TED speaker and the founder of Kleinert Ventures, a marketing consulting firm helping leaders and companies market, recruit and retain millennials.
Jared was a team member at 15Five and Learnist, and successfully started (and spectacularly failed at) two startups as a teenager. At 17, Forbes named him the "Definition of Social Entrepreneur" and he's since appeared in Fast Company, TechCrunch, Business Insider and Huffington Post.
Jared's real power lies in his ability to grow a powerful network, even being called the "most connected millennial in the world". His new book, 3 Billion Under 30, continues the theme of interviewing the world's most successful millennials, but this time focuses on more established entrepreneurs.
"I needed to surround myself with better people" (Tweet this)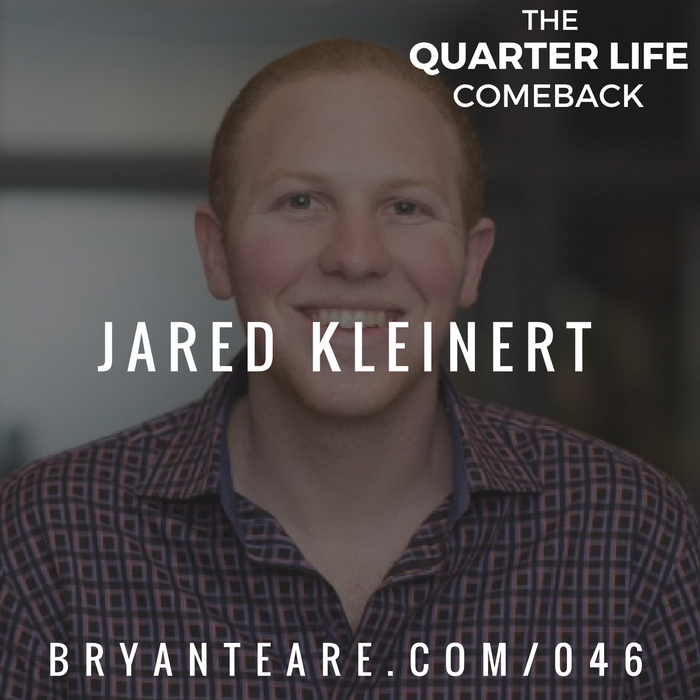 IN THIS EPISODE, YOU WILL LEARN:
Why you should do more work than you're paid for
The biggest lessons learned from 2 failed startups
How to work for free when you have bills to pay
Tips for connecting with your dream mentor
How to grow a vast, powerful network using "super connectors"
The 3 biggest lessons learned from the world's most successful millennials
RESOURCES & LINKS MENTIONED IN THIS EPISODE:
Finally, you can hang out with Jared on the various social media channels below:
Website | Email | Twitter | Facebook | LinkedIn
THANKS FOR LISTENING!
If you enjoyed this episode, shoot me a tweet @BryanTeare and let me know your biggest takeaways. Feel free to share it around with your friends so they can benefit from the podcast as well.
Also, I'd be really grateful if you could leave an honest rating & review for The Quarter Life Comeback on iTunes. They're extremely helpful in terms of the rankings and visibility of the show, and I read each and every one of them personally 🙂
Finally, don't forget to subscribe on iTunes, Stitcher, SoundCloud or TuneIn to receive new episodes as soon as they go live!
Thanks again for joining me on the show, Jared, and for sharing your message.
P.S. Want to support The Quarter Life Comeback? Now you can by becoming a patron! Click here to learn more.
Intro by Daniella Pellegrini | Music Credit: CharlestheFirst – Letting Go

READY TO CREATE YOUR COMEBACK?
Sign up below to get even more episodes like this as soon as they go live! You'll also receive exclusive subscribers-only content, news, and updates on products and services via email. Unsubscribe at any time.