Today I'm excited to welcome Paul Angone to The Quarter Life Comeback podcast.
Paul Angone is an author, speaker and expert on the quarter life crisis & the unique challenges of life in your twenties.
Paul's passion for this work came about from his own struggles in life trying to figure out his twenties and the fact that nothing seemed to make sense. He's spent the last 10+ years researching this important decade and now shares what he's learned with others to help them navigate their twenties and avoid some of the headaches he experienced.
This interview was quite possibly the most impactful one I've done and Paul shared some major wisdom, both from his books and elsewhere. Seriously, this episode is packed full of amazing resources for quarter lifers.
Alright, let's go hang out with Paul…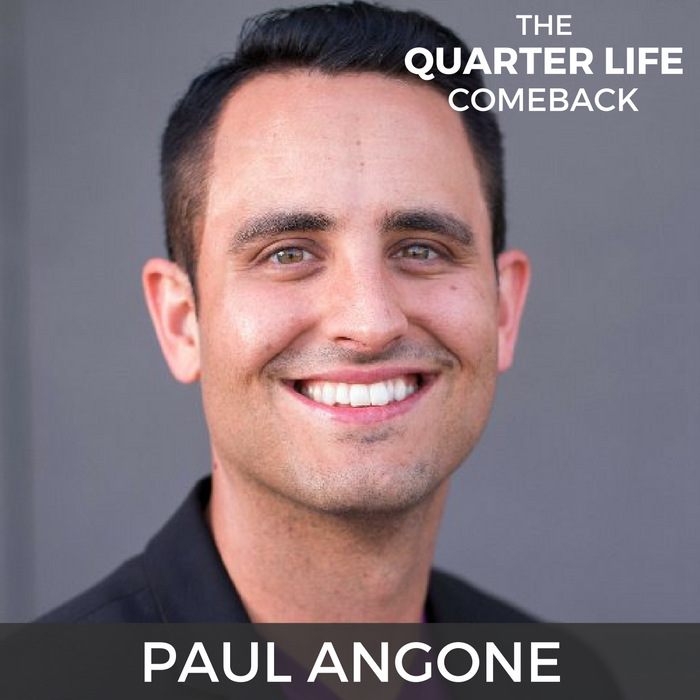 "Life will never feel like it's supposed to" (Tweet this)
IN THIS EPISODE, YOU WILL LEARN:
Is the quarter life crisis a real thing?
Why your twenties differ from other life transitions
How to know if you're experiencing a quarter life crisis
Why the most dangerous job you can have is a comfortable one
How social media and FOMO is plaguing our generation
The unusual place to find your purpose
The biggest lie twenty-somethings are believing
RESOURCES & LINKS MENTIONED IN THIS EPISODE:
Finally, you can hang out with Paul on the various social media channels below:
Website | Email | Twitter | Facebook | Instagram | YouTube | LinkedIn
THANKS FOR LISTENING!
If you enjoyed this episode, shoot me a tweet @BryanTeare and let me know your biggest takeaways. Feel free to share it around with your friends so they can benefit from the podcast as well.
Also, I'd be really grateful if you could leave an honest rating & review for The Quarter Life Comeback on iTunes. They're extremely helpful in terms of the rankings and visibility of the show, and I read each and every one of them personally 🙂
Finally, don't forget to subscribe on iTunes, Stitcher, SoundCloud or TuneIn to receive new episodes as soon as they go live!
Thanks again for joining me on the show, Paul, and for sharing your story.
P.S. Want to support The Quarter Life Comeback? Now you can by becoming a patron! Click here to learn more.
Intro by Daniella Pellegrini | Music Credit: CharlestheFirst – Letting Go
READY TO CREATE YOUR COMEBACK?
Sign up below to get even more episodes like this as soon as they go live! You'll also receive exclusive subscribers-only content, news, and updates on products and services via email. Unsubscribe at any time.